2017: The Year We Reinvented the Sports Bra
See why Big City Moms selected the SevenlyFIT sports bra as their Pick of the Week.
Press Release
-
updated: Feb 16, 2017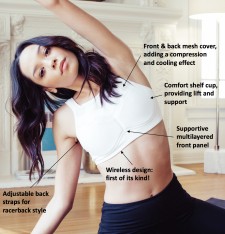 SANTA MONICA, CA, February 16, 2017 (Newswire.com) - IN A RECENT STUDY, it was discovered that conventional sports bras fail consumers because they're designed the same way as traditional bras: all cup sizes are composed of 180 grams of fabric, and therefore, do not account for the varying movement of the breast tissue, which increases in correlation with cup size during low, medium, and high-impact workouts. Because conventional sports bras are not tailored specifically for each cup size, women experience discomfort when they exercise and often wear two bras to add stability. However, since identifying the origin of the problem, SevenlyFIT can offer a sensible solution by rewriting the methods of design with a patent pending sports bra. 
Using wide-band elastic fabric, SevenlyFIT constructed a revolutionized sports bra that minimizes movement of the breast tissue during exercise, and thus, maximizes comfort and stability for each specific cup size. Named "Pick of the Week" by Big City Moms, SevenlyFIT's wireless sports bra eliminates the bounce without compromising range of motion. The scooped center back allows a wearer to move freely, while the rounded angle armpit reduces side/underarm chafing and the moisture wicking fabric keeps you dry. Plus, with a hook-and-eye back, SevenlyFIT's sports bra is easy to put on or take off, so say goodbye to the over-the-head struggle.
"Our sports bra will not only help you reach your fitness goals, but it also gives back: seven percent of all profits are donated to the Walk Free Foundation, an organization dedicated to preventing human trafficking," notes Matt Isner, SevenlyFIT team member. "Making a purchase helps us fight the battle against modern slavery. If you're still hesitant to commit, try our bra for two weeks free before buying: we'll accept a return at no charge. Bottom line: you can't lose, but we hope you love it as much as we do!"
Media Contact:
Matt Isner can be reached at matt@sevenlyfit.org. 
Source: SevenlyFIT
Share:
---
Categories: Fashion and Apparel, Athletes, Charitable Contributions
Tags: Equinox, fitness, health, lulu lemon, marathon, meditation, Nike, running, Soul Cycle, triathlon, Under Armor, yoga
---