1010 Wilshire Invites Tenants to Learn More About MindCrux
Press Release
•
updated: Mar 21, 2019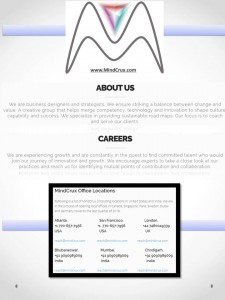 LOS ANGELES, March 21, 2019 (Newswire.com) - 1010 Wilshire invites tenants to learn more about MindCrux, a business consulting firm that serves a variety of industries including education, health care and the public sector. MindCrux provides consulting services such as strategy, assessment, change managment and image managment. The company combines technology, innovation and competency to help its clients become more successful. MindCrux is continuing to grow and is always looking for new talent. Those interested can visit www.mindcrux.com for more information about career opportunities.
About TENTEN Wilshire
TENTEN Wilshire is located in downtown Los Angeles and is within walking distance to restaurants, bars and cultural attractions. This mixed-use complex provides fully furnished apartments and office spaces. Utilities such as high-speed internet, premium cable and local phone are included. Each apartment features a private patio that tenants can use for relaxing and entertaining. Flexible leasing options are available. Additional amenities include a private gym, health spa services, Jacuzzi and a rooftop pool. TENTEN Wilshire hosts many social and networking events throughout the year for its tenants. The award-winning rooftop is a beautiful outdoor space where tenants can mingle with neighbors and friends in the lounge or around one of the fire pits. The rooftop also features panoramic views of Los Angeles.
Neha R. Shah
Events & Production Manager
neha@amidigroup.com
Direct: 213-785-5606
www.1010wilshire.com
http://www.1010wilshire.com/fb
Source: TenTen Wilshire