Press release distribution—or wire services—remains one of the mainstays of corporate and marketing communications.
Wire services supply syndicated news to newspapers, radio, television stations, and any kind of broadcast media you can imagine. With several vendors to choose from, research is vital in determining which distribution partner is right for your business and its goals.
As the number of media outlets, reporters, editors, and other influencers grows, distribution methods are becoming just as important as the announcement itself. Two major players in the industry today are Newswire and Business Wire.
Business Wire
Business Wire was founded in 1961 and remains a trusted source for news organizations, journalists, investment professionals, and regulatory authorities. It delivers news directly to editorial systems and leading online news sources via its multi-patented NX Network. Business Wire's global newsrooms are available to meet the needs of communications professionals and news media worldwide.
Newswire
Newswire is a media technology company that provides its clients with the Press Release Optimizer (PRO). The PRO consists of press release distribution, media databases, media monitoring, and newsrooms. This innovative program helps small and midsize companies of all industries build brand awareness through earned media, increase online visibility through greater SEO recognition, and more sales inquiries through targeted digital marketing campaigns.
Consistent press release distribution helps companies bolster their PR and marketing efforts to stay top of mind among their core audiences. For small businesses still building their brand, the added exposure creates more opportunities to share news, announce new business initiatives and strengthen relationships with core audiences.
Pricing overview
Press release writing and distribution services can unexpectedly eat into businesses' tight budgets and often take time to develop, coordinate and approve. Not to mention, success with direct outreach doesn't happen overnight. It can sometimes can take weeks or even months of relationship-building before you see the fruits of your labor.
Pricing among these leading providers is relatively competitive. Newswire, however, edges out its competition with 500 words included (as opposed to 400 from Business Wire) and lower fees for add-ons.
| | Newswire | Business Wire |
| --- | --- | --- |
| Base price | $899 | $940 |
| 100 additional words | $175 | $195 |
| Membership | $0 | $0 |
| Logo | $0 | $0 |
| Multimedia attachment | $0 | $425 |
Feature comparison
Newswire offers bundle deals through its Value Packs with different pricing for three, six, 12, or 24 press releases, depending on the company's need. There is a 5% discount for a Value Pack of three press releases, 10% off for six press releases, 15% for 12 press releases, and a discount of 20% when buying a value pack bundle of 24 press releases. A significant value for businesses looking to distribute a higher volume of news.
| | Newswire | Business Wire |
| --- | --- | --- |
| Included words | 500 | 400 |
| Included links | Unlimited | Unlimited |
| Writing services | Yes | No |
| Editorial and proofreading service | Yes | Yes |
| Social media distribution | Yes | Yes |
| Support | Phone, e-mail & chat | Phone, e-mail & chat |
| Analytics and reporting | Yes | Yes |
| Media monitoring | Yes | Yes |
| Media database | Yes | Yes |
| Pitching services | Yes | No |
Newswire is the only company in the industry to offer a media and marketing communications utility designed to convert owned media into earned media opportunities through its Press Release Optimizer (PRO). This first-of-its-kind program includes press release distribution, press release writing, access to media databases, media monitoring, and newsroom services. These offerings are designed to generate higher-quality leads and accelerate business growth.
Through the Press Release Optimizer, businesses can:
Generate brand awareness through earned media mentions;
increase their brand awareness and online visibility through enhanced search engine optimization (SEO) recognition; and
drive higher sales inquiries through targeted marketing campaigns.
Unlike other media technology companies, Newswire provides access to expert strategists without the expensive costs.
User reviews
Reviews are critical for small businesses to determine which products best fit their use case. When researching SaaS products and services, it's essential to read through reviews and testimonials to get honest feedback from real people.
Having a plan for PR campaigns is the most vital step to ensure you're spending your budget, resources, and time on initiatives that drive actual results for your business. Newswire provides the technology to run campaigns and the strategic expertise to help you use them effectively.
Let's look at G2.com, a leading peer-to-peer review site for business services, for their comparison of Newswire and Business Wire.

As of September 2022, Newswire has a 4.5 out of 5.0 rating, with 459 reviews. Business Wire has a 4.0 out of 5.0 rating with 182 reviews. G2 calculates its scores with real-time data from verified user reviews.
Between the two companies, G2 concluded that:
Reviewers felt that Newswire meets the needs of their business better than Business Wire
When comparing the quality of ongoing product support, reviewers felt Newswire was the preferred option
For feature updates and roadmaps, our reviewers preferred the direction of Newswire over Business Wire
Check out G2's comparison of Business Wire vs. Newswire for their in-depth analysis of the press release distribution providers.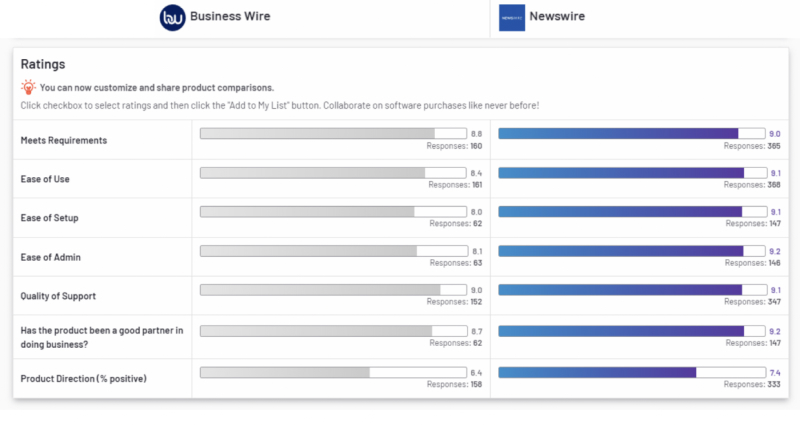 According to its website, TrustRadius is the most trusted research and review platform for business leaders to find and select the right software for their needs. Decision-makers across industries rely on verified, peer-based guidance and research from TrustRadius.
As of September 2022, Newswire has 95 reviews, 82 positive and 13 of which are negative.

Newswire has also earned several accolades on Trust Radius, including:
Top Rated 2022
Best of 2022: Best Feature Set
Best of 2022: Best Relationship
Best of 2022: Best Value for Price
Comparatively, Business Wire has eight total reviews; seven positive and one negative.
Newswire differentiators
Newswire has a relentless commitment to customer satisfaction and passion for customer performance—two factors that directly contributed to the development of the PRO.
Through PRO, Newswire allows its customers to automate media and marketing communications for small and midsize businesses seeking to deliver the right message to the right audience at the right time for the right purpose.
Improvements to its feature set and the further development of its press release distribution network provide more value to customers while propelling Newswire ahead of its competitors.
Customers looking to maximize their marketing budget should consider Newswire as its provider of press release distribution services.
Get help with your press release distribution today!
Not sure what you need from a distribution partner or where to start? Newswire's team of expert PR Strategists can conduct a free, comprehensive needs analysis to determine the right solution. In addition to press release distribution options, Newswire offers additional media and marketing communications support through the Press Release Optimizer.
Let's Get Started
Distribute the Right Message to the Right Audience at the Right Time
Do you think the Press Release Optimizer might be a good option for you? Click "Let's Get Started" to schedule your free needs analysis to see how Newswire can support your media and marketing efforts!