National Blood Clot Alliance Appoints New Chair to Lead its Medical & Scientific Advisory Board
Michael B. Streiff, MD, FACP, selected to head up prestigious group of medical and scientific advisors to NBCA.
Press Release
-
Jan 21, 2015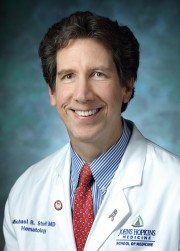 Rockville, MD, January 21, 2015 (Newswire.com) - The National Blood Clot Alliance (NBCA) is pleased to announce the appointment of Michael B. Streiff, MD, FACP, Johns Hopkins Medical Institutions, Baltimore, Maryland, as the new Chair of its prestigious Medical & Scientific Advisory Board (MASAB). Dr. Streiff has been a MASAB member for several years, and took the helm as Chair on January 1, 2015.
"I'm honored to serve NBCA in this capacity, and to work with the organization's medical and lay leadership to help patients and healthcare professionals alike better recognize the impact of blood clots," Dr. Streiff says. "My goal as MASAB Chair will be to ensure that the work we do as an advisory group aligns effectively with NBCA's mission to increase awareness about blood clots, and to ensure that we support the organization's efforts to bring about a reduction in morbidity and mortality associated with blood clots and clotting disorders."
Dr. Streiff's work focuses on the prevention and treatment of venous thromboembolism (VTE) and evidence-based management of anticoagulation. As such, he chairs the Venous Thromboembolism Guideline Committee for the National Comprehensive Cancer Center Network and has served on several international consensus panels to develop evidence-based guidelines for the management of VTE. At Johns Hopkins, Dr. Streiff is an Associate Professor of Medicine and Pathology, Associate Faculty with the Armstrong Institute for Patient Safety and Quality, Medical Director, Johns Hopkins Anticoagulation Management Service and Outpatient Clinics, and Medical Director, Special Coagulation Laboratory.
MASAB's work is crucial to the success of NBCA's mission, and under Dr. Streiff's leadership we look forward to the continued guidance and support of this influential group of medical and scientific experts.
"We're fortunate to have Dr. Streiff lend his time and expertise to NBCA, and to have him serve in this very important leadership role with MASAB," says NBCA CEO Randy Fenninger. "MASAB's work is crucial to the success of our organization's mission, and under Dr. Streiff's leadership we look forward to the continued guidance and support of this influential group of medical and scientific experts."
Dr. Streiff's term as MASAB Chair begins at an important time, as NBCA will be expanding its efforts to build public awareness about blood clots in the upcoming year, and new developments in the diagnosis and treatment of blood clots also will continue to emerge.  
"As NBCA's efforts to increase the public's understanding about blood clots grow, and our focus on saving lives is sharpened, we're very grateful to have the commitment of Dr. Streiff and his expertise to help ensure that our work is properly focused and successful," says Kathleen Smith, NBCA's Board President. "NBCA's work touches so many lives, therefore it's important that the work we do be guided by the clinical excellence of our MASAB members."
As the Chair of MASAB, Dr. Streiff also now assumes a seat on NBCA's Board of Directors, acting as MASAB liaison with NBCA's lay leadership, and working with the organization's most senior staff as programs and services provided by NBCA are designed and implemented. His current term as MASAB chair extends through December 2016.
NBCA, a 501(c)(3), non-profit, voluntary health organization, is dedicated to advancing the prevention, early diagnosis, and successful treatment of life-threatening blood clots, such as deep vein thrombosis, pulmonary embolism and clot-provoked stroke. NBCA works on behalf of people who may be susceptible to blood clots, including, but not limited to, people with clotting disorders, atrial fibrillation, cancer, traumatic injury, and risks related to surgery, lengthy immobility, child birth, and birth control. NBCA accomplishes its mission through programs that build public awareness, educate patients and healthcare professionals, and promote supportive public and private sector policy.
For more information, visit NBCA's website or connect with the organization on Twitter and Facebook.
---
Categories: Non Profit, Healthcare, Healthcare, Medical
Tags: blood clots, deep vein thrombosis, DVT, PE, pulmonary embolism
---