Montclair-Based Dairy Air Ice Cream Co. Responds to Recent Backlash
Press Release
-
updated: Dec 14, 2017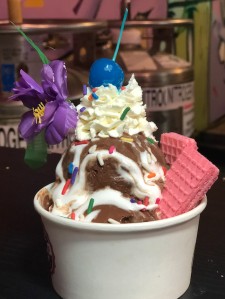 MONTCLAIR, N.J., December 14, 2017 (Newswire.com) - In just one week, the newly opened Dairy Air Ice Cream Co. has served more than a thousand customers and has received numerous accolades for its over-the-top ice cream desserts. The concept has also received some criticism from a few vocal members of the community for its illustrated drawing of a 'cheeky' cartoon cow.
Anthony Tortoriello, a partner in the up-and-coming franchise and father of two teenage daughters, is a fierce believer in fostering an open dialogue and creating a strong community of businesses and residents in the neighborhood. He and his business partner, Jeff O'Neill, also a father of two, have been speaking with folks from all sides of the issue, and have a genuine appreciation for the various perspectives.
"Dairy Air was created with one goal in mind – to make delicious dairy desserts for our customers. To us, it's all about the ice cream and serving it in a super unique, family-friendly store, with awesome customer service," said Tortoriello. "We simply created a fun illustration to complement our fun name. In 'hindsight,' however, we realize that the illustration may have been offensive to some. In light of that, we are working now to tweak it."
Tortoriello and O'Neill say they never intended for their ice cream store or its brand identity to be controversial. "We want the awesome taste of our ice cream to unify – not divide – our community. We stand by our product 100 percent, but we're ok putting the cow out to pasture," said Tortoriello.
The illustration at the heart of the issue, while not visible from the exterior of the ice cream shop, has become a rather heated discussion topic both in the store and on social media, even sparking a number of local media polls about whether or not the shop should keep it or change it.
"The positive response has actually been overwhelming," says O'Neill. "And while we appreciate that, and all of our supporters, we want to do what's best for our customers, our neighbors, and ultimately for our brand here in Montclair, and as we begin to expand regionally. Once we realized that sides were being taken, it was time to end the battle over the cattle."
Dairy Air and its branding team are currently working on a variation of the illustration and expect to unveil it soon. Tortoriello points to the fact that the actual 'logo' is an ice cream sandwich, which is featured on all of the exterior signage. "As for our product," he says, "we think that utterly speaks for itself."
Dairy Air Ice Cream Co. is located at 521 Bloomfield Avenue, Montclair, NJ 07042.
Source: Dairy Air Ice Cream Co.
Share:
---
Categories: Marketing, Food and Beverage Services, Retail
Tags: cow controversy, cow logo, dairy, Dairy Air, desserts, ice cream, Montclair, New Jersey
---