Specialist Skin Clinic Becomes First Singapore Dermatology Clinic To Join HealthyIM
HealthyIM announced today that Specialist Skin Clinic and Associates Pte. Ltd., located just off Orchard Road in the heart of downtown Singapore, has signed on with HealthyIM as a premium member and a leading dermatologist.
Press Release
-
updated: Dec 3, 2014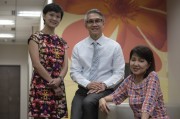 June 5, 2014 (Newswire.com) - Singapore HealthyIM announced today that Specialist Skin Clinic and Associates Pte. Ltd., located just off Orchard Road in the heart of downtown Singapore, has signed on with HealthyIM as a premium member. Dr. Cheong Wai Kwong, who cofounded the clinic in 1990, practiced at various dermatological centers in Singapore and London before going into private practice at the Specialist Skin Clinic. He trained at St John's Dermatology Centre in London in cutaneous photobiology, the study of sunlight's biological effects on the skin, and phototherapy, the use of ultraviolet radiation to treat skin conditions such as psoriasis and eczema. Dr. Cheong lectures extensively on acne, atopic dermatitis, hair loss and other skin conditions both locally and regionally, and is featured regularly in the media for his advice on skincare products and skin issues.
Dr. Cheong's colleagues at Specialist Skin Clinic are Dr. Phay Ken-Lin and Dr. Neoh Ching Yin. Dr. Phay is highly regarded in the field of cosmetic dermatology and has a special interest in the treatment of acne and acne scars. She is conversant in the use of different treatment methods for aesthetic purposes, including various types of lasers and intense pulsed light (IPL).
Dr Neoh Ching Yin underwent further training at the renowned Mayo Clinic in Rochester, Minnesota, where she specialized in immunological diseases of the skin and oral mucosal diseases. Her special interests include the management of atopic dermatitis as well as medical dermatology, which covers conditions such as psoriasis, lupus erythematosus, blistering skin diseases and recurrent oral ulcers. Dr. Yin also provides services in cosmetic dermatology, and in recent years has developed a keen interest in the treatment of hair loss.
Specialist Skin Clinic offers services in English, Mandarin, Indonesian and Malay, and the doctors and staff are comfortable interacting with international patients. Dr. Cheong also has a keen interest in Japan and has traveled there frequently. He has some knowledge of Japanese, and would welcome Japanese patients to the clinic.
Dr. Cheong and his colleagues are pleased to be associated with HealthyIM. "The site is different from other medical websites in that it promotes preferred clinics to patients, rather than simply acting as a booking agent for any medical clinic," Cheong says. "The promotional services provided will also give Specialist Skin Clinic a much higher profile."
HealthyIM is an innovative portal site that covers medical facilities in Japan, Malaysia, South Korea, Thailand and Singapore. According to site founder and CEO Michael Bobrove, Dr. Cheong and his colleagues and clinic are exactly the types of practitioner and facility HealthyIM wants to introduce to medical travelers and local patients. "HealthyIM is constantly adding more hospitals, wellness centers, clinics and specialists of all kinds, and we're excited to have Specialist Skin Clinic join us."
In addition to showcasing the region's best healthcare options, HealthyIM provides medical travelers with unique healthcare-related news and features and detailed medical travel and healthcare information on topics such as LASIK surgery, smoking cessation and screening for breast cancer, and a concierge desk that introduces medical travelers to medical facilities.
The company also offers professional brand consulting and content-generation services to hospitals, clinics and wellness centers designed to raise their profiles and bring them part of the global medical tourism pie, which is valued at up to US$60 billion annually.
HealthyIM is the go-to resource for medical travelers everywhere seeking the right places for diagnosis and treatment and for medical institutions and practitioners involved in or wanting to profit from Asia's booming medical tourism industry.
Founder and CEO Michael Bobrove spent twenty years as an executive in the medical devices and pharmaceuticals industries in Asia, including positions at Nihon Schering K.K. and Bayer HealthCare, and was the president and representative director of Nihon Medrad K.K. for over fourteen years.
---
Categories: Dermatology/Skin Diseases
Tags: HealthyIM, Singapore Dermatologist, Specialist Skin Clinic
---