Wokano Restaurant Uses Leaf Organic Vodka to Create New Taste Sensations
Wokano Restaurant in LA is making a splash with two new cocktails that have customers raving!
Press Release
-
Sep 30, 2015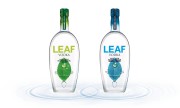 New York, NY, September 30, 2015 (Newswire.com) - ​​​Wokano Restaurant at Sunset Blvd & Laurel Canyon Blvd. is making a splash with two new cocktails that have customers raving!  According to General Manager Justin Kim, "The combination of LEAF organic vodkas and fresh garden ingredients has really resonated with our guests."
Kim notes that there are hundreds of vodkas to choose from, but LEAF has a distinguishing characteristic in its use of water. 
LEAF Vodka is sourced from unique waters around the country and is USDA Certified Organic. There are two varieties—one made from Alaskan Glacial water, which lends a pure, smooth taste with a hint of sweetness. The other, made from Rocky Mountain mineral water, provides richness and complexity, offering a warm and savory impression.
"When it comes to our food, high-quality ingredients and taste are a priority.  We feel the same way about our signature cocktails," said Kim.
The first cocktail, called the Sunset Basil Cooler, is made with LEAF Vodka made with Alaskan Glacial Water.
Sunset Basil Cooler 
1.5 oz. Leaf Vodka made with Alaskan Glacial Water
1.0 oz. Midori Liqueur
2 Cucumber slices
1.0 oz. Lime juice
1.0 oz. Simple syrup
Muddle the 2 slices of cucumber, add the rest of the ingredients in a shaker, shake and strain over rocks in a highball glass. Garnish with a cucumber wheel. 
The second cocktail is the Peachy Keen and is made with LEAF Vodka made with Rocky Mountain Mineral Water.
Peachy Keen 
1.52 oz. Leaf Vodka made with Rocky Mountain Mineral Water
1 oz. Peach Schnapps
.05 oz. Lime juice
.05 Simple Syurp
3 Peach slices
Muddle slices of peach with all ingredients.  Shake and strain into a Collins glass, add ice.  Top with cava.  Garnish with a peach slice.
LEAF Vodka is manufactured by Global Spirits USA.
About Wokano Restaurant Group:
The Wokcano Restaurant Group is a contemporary Asian Restaurant and Lounge venue with six locations currently operating throughout Southern California. Featuring fresh sushi and creative maki rolls as well as modern riffs on traditional fare, Wokcano offers guests a broad and savory tasting tour of popular Asian cuisines. Innovative signature dishes incorporating the vivid regional and multicultural currents that make up modern Asian cuisine highlight the menu and are available for delivery, take out, and corporate dinning.
Design elements at all locations reflect a chic and relaxing atmosphere perfect for everything from solo dinning at the sushi bar and large groups at a communal table to happy hour drinks in the lounge that offers a host of Asian-inspired cocktail selections and an inclusive yet reasonably-priced wine and sake list.
Currently in a dynamic period of growth, Wokcano has expanded with the opening of the Long Beach branch in 2009. Other locations include Santa Monica, West Hollywood, Downtown Los Angeles, Burbank, and Valencia.
Share:
---
Categories: Food and Beverage Manufacturing, Food and Beverage Services
Tags: Cocktail Recipes, LA, LEAF Vodka, Los Angeles, Wokano Restaurant
---