Waterline Controls Announces a Revolutionary Liquid Level Control System for OEM / UL508a Panel Applications
Waterline Controls is releasing a revolutionary product that will allow manufacturers to build our advanced control system into their controllers, using the relays and sensors that fit their specific application.
Press Release
-
Jul 7, 2015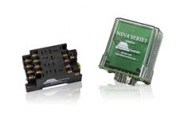 Tempe, Az, July 7, 2015 (Newswire.com) - Waterline Controls is proud to announce the release of a new product that eliminates the inherent failure points of managing water levels with physical probes, thus eliminating the use of float switches in water wherever possible.
With water conservation efforts only becoming more prevalent in the future, not to mention the associated cost of moving or storing water, which is sure to increase over time, Waterline Controls' new WLC Nina Series is a water conservation product that will revolutionize how we control water in commercial tanks and reservoirs for efficiency and savings.
President, Bill Seneff proudly stated "There is no other commercially available product today that has combined the latest technologies in software and set point liquid sensing with as many set points for more control in a smaller space envelope inside a panel. It's getting smaller just like mobile phones did from the late 1990s to now."
The Nina Series manages water levels with physical probes, which eliminates the mechanical problems with floats that foul and fail.  Bill Seneff acknowledged "there are some places where float switches cannot be completely eliminated and it can be used with float switches, but there are many places where they can be eliminated and that is what our newest line of products is intended to do in this digital age of electronic controls.  We do offer a full line of physical probes for pressured and non-pressurized vessels that complement the NINA series."
The revolutionary concept behind this is a compact and universal liquid level system that can be installed onto any OEM control system. It has a series of twenty different ways to monitor and control water moving up or down in an environment with intuitive LED lights to tell the operator what it is doing.  The different configurations are factory set and shipped as specific control switches for the required level control needs. 
The approximately 3"(L) X 2"(W) X 3"(H) small-scale version of the standard WLC Series can run up to four different switching relays and monitor up to six different probe set points.  Each set point can do two different control functions if necessary moving water or any other liquid depending on your application.  The unit has a fault system to tell the operator if it loses power or had a sensing failure. They can then either drive relay coils individually or connect to a BMS or other remote panel using the dry contact system included onboard, depending on the application needs.
The Nina is so amazingly diverse that it can be connected to any desired sensing method, including float switches, pressure switches or physical probes so it can be used in any liquid level control situation. Due to the unique sensing method using physical probes, there is no sort of degradation, fouling, or plating on physical probes from poor water quality.  Waterline's proprietary  line of physical probes or any other manufacturers line of physical probes can be used, for complete flexibility of manufacture.
The unique design is intended to allow OEMs and UL508a panel shops that needs to add liquid level management or monitoring to a custom cabinet project or branded control system the freedom to incorporate the advanced Waterline system in their controls.
Waterline Controls
1930 E 3rd St, Suite 8
Tempe, AZ 85281
408-905-1892 / 888-905-1892
www.waterlinecontrols.com
Share:
---
Categories: Electrical, Water, Sewage, and Septic Systems, Engineering
Tags: Industrial Water Conservation, Liquid Level Control, Liquid Level Sensor, Water Level Control
---
Related Files
Additional Links