Visual Artist Dana Blickensderfer Showing Artwork in South Beach During Miami Art Week 2015
Artwork of Dana Blickensderfer on display during Miami Art Week in South Beach Miami.
Press Release
-
Dec 1, 2015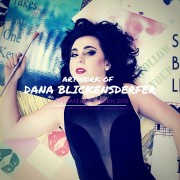 MIAMI, FL, December 1, 2015 (Newswire.com) - ​During the first week of December 1-6th 2015, thousands flock in for the spectacle that is Miami Art Week. Artist Dana Blickensderfer's artwork will be one of the many featured spectacle, on display, for art enthusiasts to view as they venture from art fair to art fair.
The annual Art Basel festivities launch December 1, 2015 with VIP preview and private access. Miami has become a well-known destination this time of year that attracts some of the major artists around the world. Satisfy your 'arts' desires as viewers will embark on all that Miami Art Week has to offer from the more traditional Art Basel paintings to the contemporary Wynwood street art.
"Over the years, Miami Art Week has been successful in attracting a diverse group of artists, gallerists and collectors, bringing them together to celebrate the Contemporary Art scene," said Dana Blickensderfer, artist and owner of Provoke Art.
Artist Dana Blickensderfer attends the art fair as a featured artist with SeeMe exhibition at SCOPE Art Fair. Blickensderfer's work among other artists will be a part of a special SeeMe exhibition hosted at Art Basel Miami, the Final Show. SeeMe has partnered with SCOPE Art Miami for many years and is showcasing their Final Show of art and photography this December 2015. Blickensderfer's work and other selected artist's works will be in a special digital display at SCOPE Art | Booth 236 | 801 Ocean Drive Miami Beach, FL 33139 reaching 32,000 VIPs and visitors to SCOPE Art Fair.
SCOPE Miami Beach opens its doors on Tuesday, December 1st through Sunday, December 6, 2015. For more information regarding the artist and Miami Art Week events contact the media relations department at Info@iBossAdv.com.
About SeeMe
Five years ago SeeMe was founded by a handful of artists working from a loft in Brooklyn. Our mission from the beginning was to create new opportunities for exposure for artists both online and offline in over-the-top world-reaching shows.
Tens of thousands of creatives have shown work at our exhibitions around the world from the Louvre to the White House and we've awarded over $1.5 millions dollars in grants and awards distributed.
About SCOPE
With over 70 art shows spanning 15 years, SCOPE is the largest and most global art fair in the world, celebrated as the premier showcase for international, emerging contemporary art and multi-disciplinary creative programming. SCOPE's extensive reach enables an unrivaled opportunity for networking with art patrons, creative professionals and a culturally relevant public audience. Renowned for presenting the most innovative galleries, artists and curators, SCOPE Art Shows in Miami, Basel, New York, London and the Hamptons have garnered extensive critical acclaim, with sales of over $900 Million and attendance of over 1,000,000 visitors.
With the unprecedented outpouring of critical acclaim from press, curators and collectors, and a digital and social media outreach campaign garnering over 300 million impressions, SCOPE Miami Beach's monumental pavilion will once again be situated on historic Ocean Drive to welcome 45,000 visitors over the course of 6 days.
About Dana Blickensderfer
An artist mainly working in painting and drawing, Dana Blickensderfer is also the founder of Provoke Art and the co-founder of iBoss Advertising. Based between New York and Tampa (Florida), Blickensderfer draws her inspiration from her personal biography relating to her family legacy: The Blickensderfers. Her most recent series of oil paintings are constructed images portraying the actual typewriter the Blickensderfer from the 1900s. She intertwines images from the actual object, the original advertising and posters of the era creating a kaleidoscope of colors; shifting between figuration and gestural abstraction. Blickensderfer becomes the bridge between the past and the present, the private and the public, the personal and the universal.
In 2014, Blickensderfer was the recipient of the Milton and Sally Avery Scholarship Award to study at the New York Studio School. In 2013, she was a finalist of the Olympics Art Competition in Orlando (Florida) and part of the Celebration of the Arts Exhibition curated by the Bay Area Museums directors in Tampa. Most recently, Blickensderfer was selected as the featured artist in the Panache Vue Magazine, February Edition.
About Provoke Art
In 2010, provoke art was founded and developed in hopes to make meaningful contributions to the art world, integrating artists' inspirations of the past and present combined with contemporary artistic genius.
The provoke art video projects developed with film directors birthed performance art for Dana and other artists' collaborations. Blickensderfer is placed painting a live exhibit in select New York City locations. She plans to produce many of these projects in the coming year with provoke art affiliates. This is the epitome of the provoke art movement – to create works that stimulate thought and emotion; provoke connection and interaction with the common denominator being art.
Share:
---
Categories: Performing Arts, Arts and Entertainment, Conventions, Trade Shows, Meetings and Events
Tags: ART-BASEL, ART-BASEL-MIAMI, DANA-BLICKENSDERFER, IBOSS-ADVERTISING, MIAMI-ART-WEEK, PROVOKE-ART, SCOPE, SCOPE-ART-FAIR, SCOPE-ART-MIAMI, SEEME, SEEME-EXHIBITION
---