Vietnam-visa.com: Visa Stamping Fee Officially Decreased
As proudly reported by Vietnam-visa.com, all users of visa on arrival to Vietnam are now officially entitled to lower stamping fee (fee to pick up visa upon arrival).
Press Release
-
Nov 24, 2015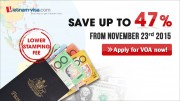 Hanoi, Vietnam, November 24, 2015 (Newswire.com) - As the new Circular on reduction of Vietnam visa stamping fees for foreigners issued by the Ministry of Finance took effect from November 23rd, 2015, applicants of Vietnam visa on arrival (VOA) now need to pay a less amount of cash for picking up visa on arrival.
According to the Circular, instead of paying US $45 for a single entry visa or US $95 for a multiple entry visa valid for up to 3 months as before, VOA users only need to pay US $25 and US $50 respectively to get their visa stamped at entry point in Vietnam airport.
With this almost 50% decrease, getting a visa on arrival is obviously ideal choice for its convenience and also cost-saving.
Why Vietnam visa is said to be convenient?
Application for visa on arrival requires applicants neither to visit the Vietnam embassy nor send their passports away by post. Only with a device with internet access, one can get his visa application gone through and get visa approval letter via email, and finally get visa stamped onto passport upon arrival at Vietnam airport.
With this way of visa application, applicants may avoid the risk of losing passports of their way to Vietnam embassy by post, or avoid time spending in traveling across a distance to each the embassy. And it is especially convenient for those living far from Vietnam embassy.
How to obtain a Vietnam visa on arrival?
Applicants may find it easy to get a visa on arrival with Vietnam-visa.com as the website and its people have made the VOA procedure simple by providing a 4-step instruction. 
At step 1, applicants only need to fill out the online form provided at Vietnam-visa.com with required information including:
Full name (exactly as shown on passport);
Passport Number;
Passport Expiry date;
Date of Arrival;
Date of Exit
Moving to Step 2, they will need to check their information again to make sure all detailed provided are correct, since their visa approval letter may be refused if it contains any wrong information. And then, they will need to click on "Process my visa" button to make payment of Vietnam visa service fee.
These two steps only take a couple of minutes to complete.
And then in step 3, applicants will not need to provide any information or documents. They only need to get their visa approval letter via email together with detailed instruction to for getting visa stamped upon arrival in Vietnam.
In step 4, the final step, applicants will get their visa stamped onto passport at visa on arrival counter when they land in Vietnam airport.
It is really simple to follow and get a visa on arrival. But please keep in mind that Visa on arrival is applicable to those traveling to Vietnam by AIR only.
Share:
---
Categories: Travel, Vacations and Travel, Foreign Government, Personal Travel
Tags: Vietnam visa, vietnam visa cost, vietnam visa fee, Vietnam visa on arrival, visa for Vietnam, visa Vietnam
---