The Forum in Pompano Beach Welcomes Innovation Charter School
South Florida-Based Christian Hotel Aims to Close Achievement Gap in Pompano Community
Press Release
-
Aug 27, 2015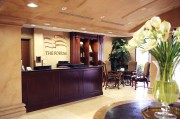 Pompano Beach, Florida, August 27, 2015 (Newswire.com) - ​The Forum, a Christian-based conference facility and hotel located in South Florida, recently welcomed Innovation Charter School on Aug. 24. The Forum's building, which has become an integral part of South Florida's landscape, will help to close the achievement gap in the Pompano Beach school system.
After Pompano Beach's local elementary schools received D and F ratings from the Florida Department of Education, Innovation Charter School decided it was time to take action to help provide these students with the proper resources to thrive academically.
The Forum decided to use its additional space to allow for the charter school to take root in its building. The charter school began classes on Aug. 24, 2015 aligning with the Broward County school calendar; and, the school includes 180 instructional days, but with 390 instructional minutes per day for kindergarten through third grade. The school aims to close the educational disparities faced by the community while emphasizing their core values – F.U.T.U.R.E. which stands for Focused, Uninhibited, Thorough, Unbounded, Research-Driven, and Ego-Surrendered.
"We are thrilled about Innovation Charter School opening," said Nicole Oliva, Marketing Manager at The Forum. "It's pretty amazing how much they got done so quickly. This is the beginning of a wonderful opportunity for these children, and The Forum is happy to be a part of it."
The Forum is a Christian organization that has worked alongside mutual, like-minded organizations in the area such as One Hope, Operation Rescue the Children, Cross International, Christian Interactive Network and Trinity Theological Seminary. The Forum will also offer after-school care through For Him Christian Academy, which has been serving Pompano Beach since 2010. In addition, The Forum will continue to serve as a hotel and conference center, providing lodging and hosting needs to visitors of Broward County. 
About The Forum
Located in Pompano Beach, Fla., The Forum has become an integral part of the South Florida landscape. Its rich history and lodging conference facility continues to set it apart. Our friendly, affordable and professional environment sets the stage to network with like-minded Christian organizations, such as OneHope, Operation Rescue the Children, Cross International, Christian Interactive Network, and Trinity Theological Seminary to name a few. The Forum Hotel strives to offer each guest a relaxing place to rest their head, in addition to offering a wide variety of amenities and services.
For more information, please visit http://forumsouthflorida.com/. To make reservations, please email reservations@forumsouthflorida.com or call 877-337-8569.
###
Share:
---
Categories: Non Profit
Tags: Children's Education, Christian Organization, Christian-Based Hotel, Education, Innovation Charter School, Pompano Beach Charter School, The Forum
---