Taneshia Nash Laird Named Regional Director for US Women's Chamber of Commerce | New Jersey in the Trenton-Ewing MSA
New leader vows to help women's chamber advance women's economic priorities.
Press Release
-
Nov 13, 2014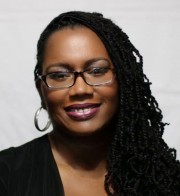 Washington, DC, November 13, 2014 (Newswire.com) - The U.S. Women's Chamber of Commerce (http://www.uswcc.org) announces the selection of Taneshia Nash Laird to advance women's economic priorities as Regional Director for the USWCC in the Trenton-Ewing Metropolitan Statistical Area (Mercer County) region of New Jersey.
"Taneshia Nash Laird is a consummate entrepreneur, strategic communications, business development and community economic development expert and respected community leader who has grown an exceptionally wide and diverse network of relationships and influence," states Margot Dorfman, CEO of the U.S. Women's Chamber of Commerce. "Laird has been an active and committed member of the U.S. Women's Chamber of Commerce; I know her elevated leadership role as Regional Director for the Trenton-Ewing Region of New Jersey will translate into increased economic gains for women."
"The U.S. Women's Chamber of Commerce commitment to advancing women's economic priorities is what first drew me to the chamber," adds Taneshia Nash Laird. "While I have extensive accomplishments as an entrepreneur and strategic business advisor, recently becoming the sole breadwinner for my two young daughters-after the sudden loss of my husband-has made me keenly aware of the importance for all women to manage financial risks. I want my daughters (now ages four and eight) to not have to live in a world where they will be exposed to the financial risks that women face today. As women, we face lower pay, lower business revenues and inflexible jobs while working to achieve our goals, protect our families and prepare for a secure retirement."
"I want to make a positive difference in the life of women and all people," says Laird. "I pledge to work with elected officials on the local, county and state level as well as the business community to change laws and policies that inappropriately reinforce financial risk rather than lift them. As the regional leader of the U.S. Women's Chamber of Commerce, I will work to advance women's economic priorities every day," Laird concludes.
Over her 20-year career, Laird has worked in entertainment, government, nonprofit leadership and real estate development. Laird is the owner of Legacy Business Advisors, a strategic communications and development consultancy, and co-owner of several businesses including the $21 mm, 20,000 square foot entertainment center My Image Studios (also known as MIST Harlem) in New York City; economic development consultants and urban real estate developers LMCK Community Partners; and Legendary Eats Sandwich House, the new arena concessions concept which launched in Staples Center in Los Angeles in April 2014.
The published co-author of the critically acclaimed book "Still I Rise: A Graphic History of African Americans," Laird is a committed community leader with a passion for art, history and the environment. She sits on the board of trustees for the Art Pride of New Jersey Foundation and the Advocates for New Jersey History, she is a Senior Fellow in the Eastern Regional Network of the Environmental Leadership Program, and she also a governor-appointed, public member of the board of the New Jersey Urban Enterprise Zone Authority.
The U.S. Women's Chamber of Commerce provides business and financial education and resources for women and works to achieve fundamental budget and policy priorities that support women's economic opportunities, security and family well-being. Women and men interested in joining and supporting the U.S. Women's Chamber of Commerce, are invited to connect with the chamber through our website at http://www.uswcc.org/new-jersey.
The U.S. Women's Chamber of Commerce (USWCC) is the leading advocate for women on economic and leadership issues. As the economic leader for women, the USWCC creates opportunities, drives progress, advocates, and provides tools and solutions to support the economic growth of women across America. The USWCC (uswcc.org) is a not-for-profit 501(c)6 organization founded in 2001 with over 500,000 members; its headquarters offices are located in Washington, D.C. Contact the USWCC at 888-418-7922.
Share:
---
Categories: Small Business, Women's Issues
Tags: leadership, New Jersey, Taneshia Nash Laird, Trenton-Ewing, U.S. Women's Chamber of Commerce
---