Software Company Claromentis Welcomes Sale Approval by Leading Financial Institution
Claromentis is excited to announce the successful sale of their digital workplace to The Central Bank of The Bahamas, the country's leading financial institution.
Press Release
-
Oct 29, 2015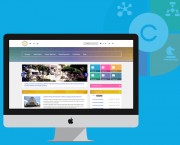 Brighton, United Kingdom, October 29, 2015 (Newswire.com) - We are pleased to confirm that The Central Bank of The Bahamas has chosen Claromentis as their digital workplace provider. As the central financial institution of The Bahamas, The Central Bank of The Bahamas promotes financial stability, regulatory control, and economic growth across the country, and we are thrilled to have been chosen as a suitable vendor to help facilitate their business processes and internal work practices.
Our digital workplace provided The Central Bank of The Bahamas with an integrated and flexible platform to foster collaboration and learning amongst team members, as well as providing a core hub for storing and distributing company information.
The full case study can be found on the Claromentis website.
---
Categories: Business Technology, Enterprise Resource Planning, Finance, Enterprise Content Management (ECM), Enterprise Resource Planning (ERP), Business Finance, Enterprise Content Management (ECM), Enterprise Resource Planning (ERP)
Tags: digital workplace, Intranet, Learning Management System, LMS
---