Softcrylic Celebrates Its 15th Anniversary
Milestone triggers fresh thinking and a broader vision for automation and analytics
Press Release
-
Dec 7, 2015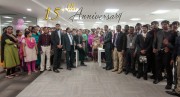 Princeton, New Jersey, December 7, 2015 (Newswire.com) - Softcrylic celebrates 15 years of providing software development, test engineering, analytics and outsourcing services to global organizations across different industries. Founded in 2000, Softcrylic delivers advanced IT services and solutions to enable organizations to attain business growth with technology.
The organization has sustained growth over the years by consistently equipping with right set of capabilities to tap high potential areas. "Expertise and Execution" has been our mantra quotes CEO of Softcrylic, John Flavin who adds, "This milestone sets up higher benchmarks for us to achieve with our added capabilities in application development, mobility, test engineering & automation and analytics domains. Agreeing to John's words, Bharath Sritharan, CTO of Softcrylic who is also a co-founder says "our focus on developing talent in diverse technical skill-set and our value-added solutions/services will help solve our client's business problems".
With a number of value adding engagements with clients across North America, where Softcrylic's primary target market is, it remembers a humble beginning with a team of 5 members and has grown to 165 employees across its 7 offices in 3 continents. "1 out of every 5 employees have worked at least 5 years with us and that speaks of the dynamic work culture and growth opportunities we have built within" quotes Emmanuel Ebenezer, Head HR of Softcrylic Technology Solutions India Private Limited, the development arm of Softcrylic. Based out of Chennai, India.
Having widely regarded as an IT Services player, Softcrylic has passionately invested in developing highly scalable, cloud-enabled platforms namely Automate-On, a test automation platform for desktop, mobile and web applications using Selenium open source technology and TapestryKPI, an easily configurable analytical reporting tool that integrates with digital, social, mobile and web analytic solutions.
Share:
---
Categories: Computers and Software, Web 2.0, Information Technology, Internet
Tags: automate-on, bharath_sritharan, john_flavin, senthiljee, softcrylic, tapestryKPI
---