Snikwah Makes a Big Splash at ICAST
Snikwah reveals their new line of superior active wear at ICAST and secures international distribution in 4 countries.
Press Release
-
updated: Sep 3, 2014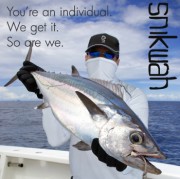 Naples, Florida, July 24, 2014 (Newswire.com) - When you think about fishing accessories and clothing, the word "amazing" doesn't typically come to mind. But this summer at ICAST, the world's largest sport fishing trade show, Snikwah unveiled its new clothing line and the response at the show can only be summed up in one word – AMAZING. .
Snikwah's patented convertible neck performanace shirt caught the eye of a number of large scale international distributors. These distributors have been quick to secure exclusive distribution rights for their countries ensuring they are the first to sell this revolutionary design. Along with its patented convertible neck, Snikwah released a new fishing line with bold graphics and a unique fish camo shirt for men and women. The line also offers the wearer full protection from the environment with SPF 50 coverage and drirelease. Drirelease technology keeps the wearer cooler in hotter temperatures and warmer in colder temperatures. Its special yarn actually pulls moisture away from the skin and pushes it outside of the fabric, where it quickly evaporates. It's ideal active wear for the active lifestyle.
According to Snikwah Worldwide President, Roy Smith. "We couldn't have asked for a better response at market, but like I always say, It all comes down to a great product, and once people can see it and touch it, our line sells itself. Our goal at Snikwah was to develop a product that allows active people more mobility and protection without being another thing to carry, and it seems that the buyers for the industry would agree we have done it."
The Snikwah team is extremely thankful and feel overly blessed for the admiration support they have receieved from the Outdoor Lifestyle Community and want to thank everyone for everyone for making this happen.
About Snikwah: Snikwah is a clothing line based in Naples, Florida. The creators wanted active wear that allowed them to do what they do, only better. Just like the people that wear it, there is nothing else quite like it. 
Snikwah strives to be at the forefront of ingenuity by producing the highest quality sportswear for an active lifestyle. This includes protection from the elements, ease of use, versatility, and the most comfortable and breathable fabric available.
Snikwah's Original is a patented, convertible neck performance shirt which features full range head and upper body coverage. It is made of top quality wicking material by Dri-Release®. Dri-Release® removes moisture from the body to stabilize your internal body temperature in challenging environments like the heat of the burning sun or biting wind with SPF 50 for additional sun protection. These materials will not wash out over time unlike other products of its kind. This high performance shirt is developed for all outdoor activities from varsity sports to fishing from mudding to hiking. It is breathable versatility for any challenge.
To learn more about Snikwah, visit www.besnikwah.com.
Share:
---
Categories: Fashion and Apparel, Hunting and Fishing, Sports
Tags: apparel news, fishing apparel, ICAST, men's sportswear, motorcycle apparel, running shirt, Sportswear, surf wear, women's sportswear
---