Small Business Adventure Manufacturers Thrive in Southern Oregon
Southern Oregon Regional Economic Development, Inc. (SOREDI) acknowledges growth in the adventure manufacturing sector of Southern Oregon. With the "National Wild and Scenic" Rogue River as the inspiration, the recreation industry projects positive growth while capitalizing on their Southern Oregon edge of business and balance.
Press Release
-
updated: Jul 15, 2015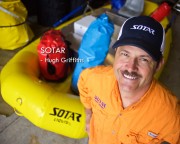 Medford, Oregon, July 15, 2015 (Newswire.com) - Southern Oregon Regional Economic Development, Inc. (SOREDI) recently honored the adventure manufacturing industry sector within the region. According to Executive Director Ron Fox, these adventure entrepreneurs started their businesses in Southern Oregon because the Wild and Scenic Rogue River inspired them, and the white waters provided the perfect testing ground for their products and services.  
"There's no place like Southern Oregon for business opportunities and for adventure manufacturing," Fox says. "These outdoor recreation manufacturing businesses found a way to capitalize on the combination of business and balance.  As a result, they are boosting the local economy while adding to the experiences of outdoor enthusiasts in the Pacific Northwest and places around the world."
Hellgate Jetboat Excursions, Bauer Fly Reels, and SOTAR are all manufacturers of high quality river-based products while Rogue Wilderness Adventures offers outdoor recreation guides services – all four businesses use a skilled workforce of between 10 and 50 people.  "Our small business recreational manufacturers (whether its product or fun) in Southern Oregon are diverse and passionate about their respective products and services," says Colleen Johnston, Senior Business Development Manager of SOREDI. "While their focus is on adventure, their niches are unique to their entrepreneurial inclinations. This is what gives each of them the Southern Oregon Edge."
For Travis Hamlyn, general manager of Hellgate Jetboat Excursions, visited by over 80,000 tourists each year, it made sense that he and his staff would build the jetboats for their  Southern Oregon river adventure company in Grants Pass. However, in 2014, he expanded their manufacturing operations and created the Katanacraft Division to build shallow draft boats for clients around the world. "We perfected our technology and our systems, and now we're sharing our expertise in boat building globally," says Hamlyn.
Bauer Fly Reels owner Jon Bauer used to racecars and made himself a legend on the speedway in the 1970s and '80s, but today, he manufactures high-end fly fishing reels that have earned industry awards. Bauer says he chose to move his fly reel manufacturing business from California to Ashland, Oregon, in 2005 based on the city's proximity to preferred fly-fishing river access.
SOTAR products were first manufactured in the 1980s in the garage of owner Glenn Lewman, whose homegrown whitewater inflatable boats are now considered some of the best in the world. SOTAR is the acronym for State-Of-The-Art Rafts and this outdoor recreation manufacturer business has evolved to become the dedicated rafter's resource. "The SOTAR brand is the recognized industry standard because we are not afraid to go first.  We remain on the cutting edge of inflatable technology," says Hugh Griffiths, SOTAR's General Manager.
Once a small whitewater rafting company when owner Brad Niva purchased it in 2005, Rogue Wilderness Adventures expanded its adventures to include hiking, fishing, wine tasting and sightseeing tours. "We manufacture fun for outdoor adventurers," Niva says.  Taking advantage of local business resources has helped expand and grow Niva's business threefold and solidify his success. He provides local jobs, brings revenue to the local economy, and gives tourists a true flavor of Southern Oregon's friendly, welcoming environment.
SOREDI is a non-profit organization dedicated to increasing the long-term prosperity of Jackson and Josephine Counties. As a leader in economic development, SOREDI partners with various organizations to complement its efforts in business and retention and attraction. 
Contact Information
SOREDI
Colleen Johnston, Senior Business Development Manager
www.southeroregonedge.com
Email: colleen@soredi.org
Office: (541) 773-8946
Cell: (541) 601-6918
Photo Credits: Jim Craven Photography, Shawn Adams
By: Karen Fronek
Share:
---
Categories: Corporate Law, Business
Tags: adventure manufacturing, adventure sector, Ashland, Bauer Fly Reels, Grants Pass, Hellgate Jetboat Excursions, Katancraft, manufacturing, manufacturing Southern Oregon, Medford, Merlin, Oregon
---