Skopic Develops Information Network In Local Communities
Press Release
-
May 8, 2015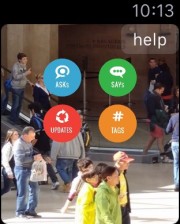 San Jose, CA, May 8, 2015 (Newswire.com) - Unlike the most popular social apps available today, which emphasize people search and people networking, Skopic's new social paradigm focuses on "communities and information networking". "It is one empowering platform that promotes community development and success" says Murali Pidathala who is the Chief Evangelist and Co-founder at Skopic, Inc.  When fully understood and adopted, this platform has a great potential sustain the user adoption over the long term unlike the most new social apps which cannot sustain for lack for end user value in the demographics they serve. 
Ravi Gudapati, who is another Co-founder and investor at Skopic says, "Skopic is possibly the best platform that is currently out there to share and mine local knowledge for instant information networking"
Although, most popular social apps have sort of purpose in them, they fail to address the use case perfectly identified in SKopic's vision. The big data analytics coming off Skopic platform can really be powerful for leaders in local governments, communities and education to be more responsive and make informed governing choices.
The upcoming iPhone of version of the app also supports the extension on the Apple watch. Skopic is currently pursuing initial adoptions phase targeting school neighborhoods, cause communities and college campuses in SF Bay Area. However, to create new communities in any part of the country, users can simply send an invite via www.skopic.com or mobile apps and the communities can go live within 24 to 48 hours.
The Co-founders, Murali Pidathala [@murlee] and Ravi Gudapati are longtime residents of Silicon Valley and Skopic is a product of their life experiences integrated with the challenges presented the current social media.
Stay tuned for additional market updates from Skopic!
Share:
---
Categories: Town and City Government, Social Media
Tags: answers, collaborate, communities, information, knowledge, Local, network, questions, search, social
---