SCI & Associates Transitions From Zenefits to Maxwell Health as Benefits Administration Technology Partner
Following a partnership wih Zenefits (zenefits.com), SCI & Associates, a leading Southern California benefits broker moves to new partnership with Maxwell Health (Maxwellhealth.com). SCI & Associates will be offering the industry leading Maxwell Health platform to clients free of charge.
Press Release
-
Jun 3, 2015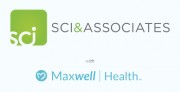 Stevenson Ranch, CA, June 3, 2015 (Newswire.com) - ​​​​SCI & Associates (sciandassociates.com), a progressive employee benefits advisor based in Los Angeles, CA, recently partnered with Maxwell Health (maxwellhealth.com) to extend Maxwell's offerings to both current and future clients.
Following a partnership with a leading California broker and silicon valley darling, Zenefits (zenefits.com), SCI & Associates was in pursuit of a superior technology to help clients better manage benefits, HR, and even payroll.
"After working with Zenefits, we learned a lot", reflects Nolan Waterfall, an SCI & Associates partner. "They (Zenefits) saw the opportunities. Many brokers are asleep at the wheel, and even if they aren't, seldom do they know how to market effectively. On top of that, Zenefits was simply offering something that a lot of small businesses wanted, other brokers couldn't offer, and they were doing it for free. Sure, there were some issues with the system, like getting groups fully functional, synching with payroll companies etc... But when you're offering something for free, and more importantly, you know how to market it as well as they do, that was pretty hard for companies to resist you know? The partnership we had with them really proved to our team how important it is to be super aggressive in finding ways to save our clients time and money. Ultimately, though, we wanted a relationship with a partner who brings the best technology to the table, but still understands how vital it is to provide the level of personal level of service and expertise we do: And there are plenty of them. Sure, the Zenefits platform has value, but we knew there had to be a better way to give clients even better technology, without sacrificing the service they need to manage their benefits and HR."
At this point, the team at SCI went back to the drawing board. With Zenefits in the rear view, they surveyed over 30 separate technology companies to find the absolute best solution.
"We knew what we wanted, or better yet, what our clients needed." Adds Steve Cosley, founder of SCI & Associates. "The problem in our industry right now is that a ben-admin system might look great, and it might even work well.. But most systems just don't connect to enough 3rd party companies like payroll and HR admin platforms to make it all worthwhile. Frankly, our industry just hasn't kept pace with technology, and now everyone's racing to get ahead, which means there are a lot of potentials to make a mistake when you're choosing a benefits admin system. What small to medium sized businesses really need is a system that brings together your benefits, your HR, and your payroll. Not only that, everything's so mobile-based these days, you also need a mobile application to engage your employees throughout the year... In the case of the Maxwell platform, they can literally get on the app and access their benefits any time – All without calling your HR manager. That's one of the features that hooked me – Our app now has Dr. On Demand, which gives employees a mobile office visit for just $40 in less than 10 minutes! We've even got a concierge service that employees can contact if they have any questions on claims, doctors in their area, and even to check out prices on a particular procedure. And to think we do all this and more for our clients at our expense - absolutely no cost to them. We really think they'd be crazy not to take advantage of all this."
Ultimately, SCI & Associates seems confident that this new partnership with Maxwell Health will be a key component of their success. They believe the industry is about to see a huge change, and plan on leading the charge.
"It's time to eat or be eaten.", Nolan remarks. "The level of competition brought on by companies like Zenefits is increasing at a level we've never seen in the benefits industry. You know what though, it's great for the consumer, and we're more than OK with that. Unless a (broker) is willing to put everything on the line, and be extremely aggressive in terms of investing commissions back into their clients, they'll be gone within 5 years. The whole business model is changing, and clients need to start expecting way more from their broker than they have in the past. Showing up once or twice during the year and helping with an open enrollment just isn't cutting it any more. It's all about enabling clients to grow their business. We saw this years ago, and it's even more true today. This is why we've made a huge investment to become partners with Maxwell, but we believe it's going to fuel tremendous growth in our company, and ultimately, it's the right thing for the client."
---
Categories: Business Technology, Enterprise Resource Planning, Enterprise Content Management (ECM), Enterprise Resource Planning (ERP), Human Resources, Enterprise Content Management (ECM), Enterprise Resource Planning (ERP)
Tags: Benefits Administration, Employee Benefits, HR, HRIS
---