Saved From Gastric Bypass Surgery; Dropped 115 lbs With Gastric Bypass NO Surgery Invention
After a knee injury left her unable to exercise or partake in physical activities, she started putting on weight uncontrollably and needed an extreme weight loss solution. Nancy was about to undergo a risky bariatric surgery where 1 in 200 dies.
Press Release
-
updated: Oct 23, 2014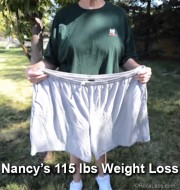 Clovis, CA, October 21, 2014 (Newswire.com) - With this success story, Roca Labs continues to impress—a weight loss that rivals the success of bariatric surgery but without the need to go through the invasive and dangerous process. Using Gastric Bypass No Surgery®, Nancy from Clovis, CA, was able to drop an impressive amount of weight; she went from 277 lbs to 162 lbs—a difference of 115 lbs.
Gastric Bypass vs. Gastric Bypass NO Surgery®
Gastric Bypass surgery divides the stomach into a small upper pouch and a larger lower remaining portion; the small intestine is then rearranged and reconnected to both parts of the separated stomach. Most bariatric surgery leads to a marked reduction in the functional volume of the stomach, accompanied by an altered physiological and physical response to food.
Roca Labs' Gastric Bypass No Surgery® regimen is essentially a tool that creates a gastric bypass effect in the stomach by limiting the available space for food consumption, just like the surgery does, but without going under the knife.
Starting Her Weight Loss Journey
While Nancy did manage to regain her health with the help of the Roca Labs Gastric Bypass No Surgery® regimen, she was not unfamiliar with weight loss attempts. Throughout her life, Nancy was able to steadily maintain her weight by, "working at it," as she likes to put it. However, after suffering from a knee injury and undergoing several surgeries, she was unable to exercise, which lead to the beginning of her weight struggle.
"Well, this has been a process over like 15 years, where I would, you know, gain some and then lose it; gain some and lose it. And then, over the last maybe 5 years, is when I, you know, got really bad and I gained a lot [of weight]," said Nancy, describing the ongoing yo-yo weight cycle.
Nancy's Weight Loss Attempts
Like many Americans, Nancy tried a number of fad diets, such as: NutriSystem, WeightWatchers, and even various diet pills, without any success. As a last resort, Nancy decided to begin the Gastric Bypass surgery approval process. While researching the procedure, she came across Roca Labs and was instantly interested in the idea of Gastric Bypass "No Surgery".
On a leap of faith, Nancy ordered the Roca Labs Gastric Bypass No Surgery® regimen; she figured that since she needed to wait 6 months before her surgery, anyway, it was worth a try.
The Weight Loss Transformation
After using Roca Labs for 6 months, Nancy shed an astounding 50 lbs. In fact, the regimen worked so well that she completely forgot about following through with the Gastric Bypass surgery. Instead, she continued losing weight with the help of Roca Labs, and in the first year, she was down 85 lbs; over the past year, Nancy was able to successfully achieve her weight loss target by losing the last 30 lbs.
Nancy loved the simplicity of it: "Roca Labs is really easy to follow. [I] mix it up in the morning and have about ¾ of it, and then in the afternoon before I have dinner, I have the [remaining] quarter," she said.
Life Improvements Post-Weight Loss
Since her remarkable weight loss of 115 lbs, Nancy has seen an improvement in her knee strength. She also suffered from chronic back pain, which stemmed from standing even short periods of time, but she no longer struggles with those issues.
"I'd recommend [Roca Labs] to just about anybody who wants to lose weight. It's crazy not to try this," she said.
Her inspiring Roca Labs review can be seen in her short video documentary.
Share:
---
Categories: Surgery, Family Medicine, Medical
Tags: gastric bypass, gastric bypass effect, gastric bypass no surgery, morbidly obese, overweight, roca labs, roca labs review, weight loss
---