(OFFICIAL PRESS RELEASE) Russell Poole Releases "Chaos Merchants" Posthumously
Yesterday Russell Poole died suddenly while at the LA County Sheriff's Department discussing reopening of the Tupac and Biggie cases that he followed so closely. He left behind instructions that if anything were to happen to him at the meeting that his new book, "Chaos Merchants" be release to the public.
Press Release
-
updated: Aug 20, 2015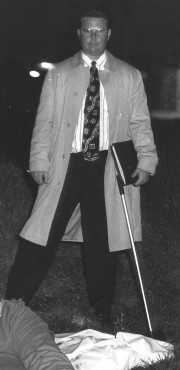 los angeles, ca, August 20, 2015 (Newswire.com) - It is with great sadness that we announce that Russell Poole died suddenly while at the Los Angeles County Sheriff's department to discuss the murders of Tupac Shakur and Biggie Smalls and the various attempted murders of Suge Knight. He was the original lead investigator on the cases while working for the LAPD as a Detective during his distinguished 19 year career with the department.
Russell was working on his new book, "Chaos Merchants" and while it is still in a draft format he wanted the book to be released to the public if something happened to him.
"I have always believed that every homicide should be investigated regardless of color, creed, or any other factor in a person's background. All life is sacred and any person who takes a human life should be brought to justice and all resources should be brought to bear in this endeavor." Russell Poole
Russell is an American Hero who blew the whistle on the corruption inside the
LAPD
 at the time of the Rampart Scandal. He stood for truth and justice and vowed to pursue the killers of
Tupac
Shakur
 and Biggie Smalls always wanting to follow only the truth wherever it leads.
He knew the danger he was in by pursuing these cases as nobody wants to face life in prison which the killers will surely face if they are ever brought to justice. Russell always held out hope that law enforcement would reopen the cases as the new information was bubbling to the surface. We are hopeful that the new information in his book will lead to the successful prosecution of the killers who are guilty of premeditated murder as both of these murders required planning.​
DOWNLOAD YOUR FREE COPY OF CHAOS MERCHANTS
https://drive.google.com/file/d/0B0DECZCZ0RQPTTBueWZ6cW5lX2s/view?usp=sharing
Share:
---
Categories: Books, Celebrities, Media and News
Tags: Biggie Smalls, Christopher Wallace, Russell Poole, Suge Knight, Tupac Shakur
---