"Raggs" Releases New Top Kids Songs Vol. 1 and Companion Animated Videos!
Emmy Awarding-winning "Raggs" sings "Wheels on the Bus," "Old MacDonald," Five Monkeys Jumping on the Bed" and more for TV, iTunes, YouTube and other media libraries.
Press Release
-
Jan 7, 2015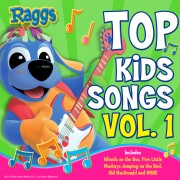 Charlotte, NC, January 7, 2015 (Newswire.com) - Hyperlinks:  "Old MacDonald", "Top Kids Songs Vol 1" iTunes
The five pups from the Emmy Award-winning "Raggs" TV series announce the release of their new album, Top Kids Songs Volume 1, and companion videos to hit songs such as "The Wheels on the Bus," "Old MacDonald," and "Five Little Monkeys Jumping on the Bed." The album is available on iTunes and other popular digital music outlets or for streaming on Sirius Radio and Time Warner's Music Choice channels.  "Raggs" new animated music videos are being released on the RaggsTV YouTube channel and Raggs.com starting January 1 and will continue over the coming months. The new videos will also be included in the TV series.
"It was fun to have the Raggs Band back in the studio and to record new, fresh renditions of these classic songs," Fred Story, head of "Raggs"' music team and founder of Concentrix Music and Sound Design in Charlotte NC, commented. "The original cast also reprised their roles in clever cameo intros to each song. The whole album rocks in true Raggs fashion!" Fred Story and Michael McGinnis, also a key "Raggs" team member at Concentrix, arranged the new songs and produced the music sessions. The songs are all public domain songs and no writer credits are known.
While the "Raggs" TV series already includes over 200 original songs, the team at Blue Socks Media, owners of the "Raggs" brand, felt the demand for these songs from their online and live show fans. The new songs will also be incorporated into the "Play at Palladium with Raggs" program at the Grand Palladium Resorts in Punta Cana, DR; Montego Bay, Jamaica and in Riviera Maya and Puerto Vallarta, Mexico where the "Raggs" characters perform live shows and host events.
"Raggs" can be found daily on Qubo cable TV in English, on Telemundo in Spanish, at Raggs.com and RaggsTV on YouTube.
Contact for more information or graphics:
Toni Steedman or Alex Anderson
Blue Socks Media (Raggs)
704-372-7400 or 704-562-4502
Complete list of songs on Raggs Top Kids Songs Volume 1:
"Wheels on the Bus"
"If You're Happy and You Know It"
"Old MacDonald"
"Itsy Bitsy Spider"
"One Two Buckle My Shoe"
"Five Little Monkeys Jumping on the Bed"
"The ABC Song"
"Head, Shoulders, Knees & Toes"
"London Bridge"
"The Numbers Song"
About Raggs
"Raggs" is an Emmy Award-winning, live action and animated musical preschool television series originally produced in Sydney, Australia, with additional U.S. production in English and Spanish.  "Raggs"' expansive library includes 195 finished half hour episodes and 200 original songs in multiple languages. The entertaining and educational series is based on the original characters created by Toni Steedman, a Charlotte, NC, advertising executive, for her then six‐year‐old daughter Alison. The rock n' roll story of five canine characters is growing an international brand that includes TV distribution, multi-platform digital distribution, CDs, DVDs, toys, books and touring. With over 4,000 live performances around the world, The Raggs Band's touring, live show and event experience has expanded to include a new partnership called "Play at Palladium with Raggs" with the Palladium Hotel Group at their resorts in Mexico and the Caribbean. "Raggs" and all rights are owned by Blue Socks Media, Charlotte, NC.  For more information, go to www.raggs.com.
Share:
---
Categories: Music, Arts and Entertainment, Home
Tags: blue socks media, classic songs, educational, kids entertainment, kids songs, learning songs, nursery rhymes, raggs
---