Political Thriller Shadows Hopeful Metaphor of Nigeria's Schizophrenia
"Shadows," a political thriller novel set in Nigeria, written by Tony Ekwoaba, is newly released on Amazon Books. The pertinence of the book is paramount as Nigeria now has a new political leader, President Muhammadu Buhari. "For the first time in Nigeria's history, the opposition defeated the ruling party in democratic elections." (Source: Christian Purefoy and Holly Yan, CNN, April 1, 2015)
Press Release
-
Apr 17, 2015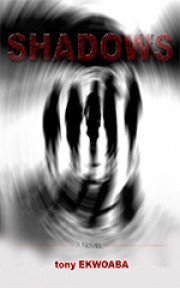 Pensacola, FL, April 17, 2015 (Newswire.com) - "Shadows," a political thriller novel set in Nigeria, written by Tony Ekwoaba, is newly released on Amazon Books. The pertinence of the book is paramount as Nigeria now has a new political leader, President Muhammadu Buhari. "For the first time in Nigeria's history, the opposition defeated the ruling party in democratic elections." (Source: Christian Purefoy and Holly Yan, CNN, April 1, 2015) "Shadows" captures the trauma and confusion of love and hatred among and toward the people (all with different degrees of decency and corruption) of Nigeria, all struggling to live, survive and better self.
One of the many questions that "Shadows" attempts to answer is how possible is it for young, hopeful, intelligent, community-oriented upstarts in Nigeria to make a positive difference in their country Nigeria? Are they destined to be roped into the dark worlds of corruption? But, of course, the country is not just a hot, steaming bowl of such. The book shares the complicated spectrum of Nigeria and how the enemy of some is the friend of others and vice versa. The difference may be...not one's opinion of who is corrupt or not, but...which entities disgrace and dehumanize in the name of greed, lust, and power?
"Tony paints Nigeria with mind-filled pictures of vivid colors. He presents the realities of growing up in the Nigerian hoods. He takes you into the lives of cultists hiding even in Nigerian schools. He doesn't stop there. He carries you into the lives of politicians, and into the hustle of pastors, and their special brand of gospels. And just when you think he's done, you find out he has only begun. 'Shadows' is a serious read. It has a way of making you laugh at serious issues. In fact…just get the book," Uche Ike, Barrister at Law, recommends.
Dr. Stanley Ukpai adds, "When Chinue Achebe, the father of African Prose, passed away, it was as if lovers of African books suddenly witnessed the Armageddon, the end of tasty African prose. But those who agree are shown to be wrong. After the books of Chimamanda Adichie hit the shelves, everyone spread the word. Adichie's works did not only prove the doubters wrong but showed that indeed the best tastes of African works are with Africa's emerging authors. One of such emerging authors is Tony Ekwoaba. Tony's debut novel 'Shadows' creates a picture of Africa's biggest economy like no other book before it. It captures the trauma and hatred among and toward decent persons who try to survive and live in such a corrupt society."
"…follow the lives and in some cases, the demises of Senator Johnson, Steve Obi, Steve's wife Matilda, Steve's best friend Kunle Mohammed Afolabi, Mrs. Folake Adewunmi (a young nurse with AIDS), Barrow De Executioner, and Barrow's girlfriend Annabel. I share the names of the main characters to give readers a head-start in understanding who is whom. At the end of the book, you will pray for a sequel! In such a short time, the book has been downloaded hundreds of times," Suzanne Bowen, blogger, entrepreneur, Super Technologies, Inc. co-founder.
Several typical Nigerian conflicts are highlighted in "Shadows:" parents' wish for offspring to marry people like them and to go make money and send it back home, the feelings of belonging amongst Nigerian gangsters and their followers, the sometimes lack of difference between freedom fighter or community leader and gangster; the dream of young and old revolutionaries to improve the plight of Nigeria's neglected in the prisons, countryside and brothels; the brotherhood and sometimes organized crime of clergy and other religious leaders, and the extreme compromises of those in power at educational, political, religious and other leading institutions. In fact, the personality and actions of main character Barrow De Executioner or even the book's plot itself reveals a metaphor for Nigeria's schizophrenia.
Tony Ekwoaba is a Nigerian-born lawyer, speaker and activist. He is a contributing writer to many magazines and newspapers across the globe. He grew up with the joy of eating roasted corn and pear and dancing in the rain as well as the understanding of his entangled society. His high school English teacher Mrs. Okoro encouraged him to write so many times. "Shadows" is his debut novel, available on Amazon at http://www.amazon.com/Shadows-Tony-Ekwoaba-ebook/dp/B00UWOCCBE. The author's website is www.tonyekwoaba.com. His Facebook community is at www.fb.com/tonyekwoaba.
Share:
---
Categories: Books, Elections, African American
Tags: nigeria scam, nigerian author, nigerian corruption, nigerian politics, President Muhammadu Buhari
---