"Play at Palladium With Raggs" Expands to Imbassaí Resort & Spa in Salvador, Brazil
Raggs Songs, Episodes and Live Shows Translated to Portuguese!
Press Release
-
Dec 11, 2015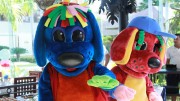 Charlotte, NC, December 11, 2015 (Newswire.com) - ​​​​​​Beginning this month, the Imbassaí Resort & Spa in Bahia, Brazil, becomes the fifth resort in the luxury all-inclusive Palladium Hotel Group to host to the highly successful "Play at Palladium with Raggs" interactive family program. 
The five characters from the Emmy Award-winning "Raggs" TV series arrived on site and have begun hosting the events in native Portuguese language. The "Play at Palladium with Raggs" program highlights include the "Raggs Pirate Show," an hour long theatrical extravaganza with the characters, dancers and a host named José; the weekly Raggs Breakfast; and the unique "Pido Surf Party," where kids dance and sing along with their favorite characters at the resort discotheque. The Raggs characters also appear casually around the pools, restaurants and kids Mini Club during the day.
"We are delighted to have our Raggs friends here in Brazil," Luis Fraguas Moure, General Manager Imbassaí Resort & Spa, explained. "Their presence brings a magical touch to our already extensive family program, and we are extremely pleased with the quality of the Raggs music in Portuguese! Everyone is singing and dancing to Raggs!"
Blue Socks Media, located in Charlotte, NC, and owners of the Raggs brand, worked with Universal Cinergia, a Miami-based production studio to translate, cast and dub the Raggs music into "São Paolo Portuguese," often considered the highest standard for the language.
"It's a complex, creative job to keep the integrity of the voices and music while being respectful of the Brazilian style," according to Liliam Hernandez, President & CEO, Universal Cinergia,  "However, everyone loved this project because of the rhythmic quality of the Raggs music!"
The Imbassaí Resort & Spa is located within the Imbassaí nature reserve on a mile long stretch of pristine beach near Salvador, the historic World Heritage Site by UNESCO in northeastern Brazil, which was settled by the Portuguese in the early 1500's. The resort is all-inclusive and there is no additional charge for any of the Raggs events or activities.  The "Play at Palladium with Raggs" program is also hosted at the Grand Palladium Resorts in Punta Cana, Dominican Republic; Montego Bay, Jamaica and both Riviera Maya and Puerto Vallarta, Mexico.​
About Palladium Hotels & Resorts
There are currently 14 Grand Palladium Resort & Spas located in Mexico (Riviera Nayarit and Riviera Maya), the Dominican Republic (Punta Cana), Jamaica (Montego Bay), Spain (Ibiza) and Brazil (Bahia).  Whether guests are whale watching in Riviera Nayarit or snorkeling in the shores of Punta Cana, Palladium Hotels & Resorts ensures a memorable vacation experience for all. Each of the properties offers a wide variety of restaurants, spa services, recreational facilities and age-specific kids clubs.  Palladium Hotels & Resorts is owned and managed by the Palladium Hotel Group.  For more information, please visit www.palladiumhotelgroup.com or follow us on Facebook and Twitter. 
 About Palladium Hotel Group
Palladium Hotel Group is a Spanish hotel chain with over forty years of experience. The chain has 50 hotels in six countries: Spain, Mexico, Dominican Republic, Jamaica, Italy and Brazil and operates five brands: The Royal Suites by Palladium, Palladium Hotels & Resorts, Fiesta Hotels & Resorts, Ushuaïa Ibiza Beach Hotel, Ayre Hoteles, and four special products: Hard Rock Hotel Ibiza, Only YOU Hotel & Lounge Madrid, Agroturismo Sa Talaia and Mallorca Rocks Hotel.

The Palladium Hotel Group is characterized by its philosophy of offering guests a high standard of quality facilities and services in each of its hotels and resorts as well as excellent value. Palladium Hotel Group is a family owned company (Grupo Empresas Matutes) and based in Ibiza, Spain.
About Raggs
Raggs is an Emmy Award-winning, musical preschool television series about five colorful pups who learn life lessons in a cool clubhouse though the innovative mix of live action stories, music videos, concerts, cartoons and interviews with real kids. Originally produced in Sydney, Australia, with supplemental U.S. production, Raggs is available in Australian English, U.S. English and Spanish.  Raggs' expansive library includes 195 finished half hour episodes, 200+ original songs, over 1,000 segments and the recent production (2015) of 20 classic songs with companion animated cartoons.
The entertaining and educational series is based on the original characters created by Toni Steedman, a Charlotte, NC, advertising executive, for her then six‐year‐old daughter Alison. Raggs is an international brand including TV distribution, multi-platform digital distribution, CDs, DVDs, toys, books and touring. With over 4,000 live performances around the world, The Raggs Band's live event experience has expanded to include a long-term partnership called "Play at Palladium with Raggs" with the Palladium Hotel Group at their resorts in Mexico, the Caribbean and Brazil. Raggs and all rights are owned by Blue Socks Media LLC, Charlotte, NC.  For more info, go to www.raggs.com.
Share:
---
Categories: Television, Hospitality, Travel, Personal Travel
Tags: brazil, children entertainment, family travel, grand palladium, palladium hotel group, raggs, resorts, travel
---
Related Files
Additional Links