**Out Now** Triple Threat Sean van der Wilt Releases His Highly Anticipated Second Single, "Doctor"
Sean van der Wilt and SenJ Records are proud to present a high energy summer dance single, "Doctor."
Press Release
-
Jul 30, 2014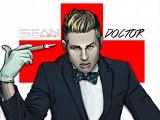 Los Angeles, CA, July 30, 2014 (Newswire.com) - Following up his contagious dance hit, S.W.C., Sean van der Wilt and SenJ Recordsare proud to present a high energy summer dance single, "Doctor." With a catchy beat and relatable chorus, "Doctor" showcases more of Sean's vocal talents and musicality - exactly what fans have been requesting after his debut.
S.W.C caught the attention of radio stations across the world and many major press outlets too, such as The Hollywood Reporter, VENTS Magazine, B.REAL TV, Elite Daily and even VIBE Magazine, which dubbed Sean "the most underrated triple threat of the decade." Since stepping out on his own, Sean's music represents his ability to deliver to fans a unique combination of dance, pop, and EDM sounds. Building on the momentum of S.W.C., Doctor is a song about Sean's past relationship, where he grew sick and tired of "fixing" everything in effort to make it work. Sean puts it all behind him in releasing Doctor, and invites fans to join him in this addicting track.
About Sean:
"No man is a good doctor who hasn't been sick himself...once your relationship turns into that doctor/patient situation, hit 'play' on my Doctor track and your prescription is filled!"
Sean's career began in the concrete jungle where dreams are made – performing in NYC's well-known Chippendales dance troupe. (Yes you read that right – Chippendales!). This exposure quickly led to offers of other endeavors as his flair for entertaining, chiseled good looks, and raw dance talent quickly set him apart from the other members of the show. More than just a successful model and talented dancer, Sean boasts acting and musical credits in television and films including Burlesque, Bring it On, My Week With Marilyn, Step Up 3D, Popstar, and The Producers, to name a few.
 
Past collaborative efforts have also contributed to Sean's musical style, as he has worked and performed with notable artists including Whitney Houston, Christina Aguilera, Beyonce, Usher, Rihanna, Cher, Missy Elliot, Aretha Franklin and the Pussycat Dolls. He also had the honor of taking the stage with his favorite entertainer, Michael Jackson, whose professionalism and kindness allowed him to serve as a mentor and inspiration for Sean. Other highlights of his career include opening up for the Black Eyed Peas and performing in the inaugural ceremonies of the 2008 Olympics in Beijing, China with superstar Pang Long at Worker's Stadium. (Sean performed the hit song, Two Butterflies, in Chinese!).
 
Sean was the final artist to be signed by music impresario Lou Pearlman, the mastermind behind successful bands like the Backstreet Boys and 'NSYNC, prior to Pearlman's incarceration for a multitude of illegal activities. Not one to be discouraged by any obstacle big or small, Sean van der Wilt continued to forge on with his career and earn international acclaim as a multifaceted artist. Now the time has come for the world to experience Sean van der Wilt on his own terms.
CONNECT WITH SEAN
Website: www.seanvanderwilt.com
Facebook: www.facebook.com/Seanvanderwiltmusic
Twitter: @SeanvanderWilt
---
Categories: Music, Arts and Entertainment, Dance
Tags: Aretha Franklin, backstreet boys, Beyonce, cher, Christina Aguilera, dancer, doctor, Michael Jackson, Missy Elliot, NSYNC, pop, Pussycat Dolls, Rihanna, seanvanderwilt, Usher, Whitney Houston
---