Nic's Beverly Hills Features Exciting New Vodkas in the "Vodbox"
Nic's of Beverly Hills is featuring some exciting new vodkas in their famous "Vodbox" including LEAF Vodkas and Khortytsa De Luxe!
Press Release
-
Oct 7, 2015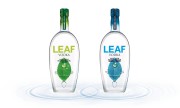 New York, NY, October 7, 2015 (Newswire.com) - ​Nic's of Beverly Hills is featuring some exciting new vodkas in their famous "Vodbox" including LEAF Vodkas and Khortytsa De Luxe!
The VODBOX is the ultimate walk-in, drink-in exhibitionist freezer designed solely for the enjoyment of vodka in its purest form. Glass and stainless steel coat the freezer's exterior while white leather shelving lines the room with hundreds of bottles, from the fashionable and exclusive to the obscure, while the center table (a wooden Nicola family heirloom, circa 1945) is prepared for tastings led by Vodkateur Larry Nicola or one of Nic's "Vodka Impresarios."
Each month, Nic features ten up-and-coming vodkas in the Vodbox, and LEAF and Khortytsa are among his latest "finds."
The first feature is LEAF Vodka, which will likely appeal to the healthier west coast life style since the brand is USDA Certified Organic.
LEAF believes vodka's main ingredient, water, is what truly defines the spirit.  LEAF Vodka is sourced from unique waters around the country. One variety is made from Alaskan Glacial water, which lends a pure, smooth taste with a hint of sweetness. The other, made from Rocky Mountain mineral water, provides richness and complexity, offering a warm and savory impression. The water sources give LEAF Vodkas their signature tastes.
"In light of the fact that California is now importing water from Alaska due to the drought, it seems fitting that LEAF Vodka made with Alaskan Glacial Water is a feature!" said Larry Nicola, with a touch of humor in his voice.
Nic's will also feature Khortytsa De Luxe, which is new to the US market.  Ukraine's famed Khortytsa (Hor-Ti-Tsa) Distillery was recently named among the world's best distilleries at the 2014 New York International Spirits Competition (NYISC).
The Khortytsa Distillery is located in Zaporozhe near Khortytsa Island. This ancient island's history dates back thousands of years and reaches the roots of civilization. It is considered a sacred place in Ukraine and is one of the country's seven wonders. 
Built in 2003, the Khortytsa Distillery is among the world's finest distilleries. It uses a local organic filter containing schungite (a unique natural mineral) which allows it to get as close as possible to the structure of natural water.  The filtration process is further enhanced with special birch and alder-tree charcoal and quartz sand sourced near the famous Crystal Mountains of the Urals near Yekaterinburg, Russia.
Nic's will be featuring Khortytsa De Luxe for vodka connoisseurs, which is a "super premium" vodka.
"Discovering new and exciting vodkas is a wonderful part of my job," said Nicola.  "I welcome anyone who's in LA in the coming months to drop in and try out the Vodbox and our exciting new lineup of vodkas."
Nic's is located at 453 North Cañon Drive in Beverly Hills.
Share:
---
Categories: Food and Beverage Manufacturing, Food and Beverage Services
Tags: Global Spirits, Khortytsa Vodka, LA, Larry Nicola, LEAF Vodka, Los Angeles Cocktails, Nic's of Beverly Hills, Pervak Vodka, Vodbox
---