Nick Pillegi, author of "Wiseguy" and movie "Goodfellas" says about "The Nappers"-"There's enough of a love story mixed into the plot to make a great movie. Can't wait."
Nick Rondi's "The Nappers" is a gritty and gripping tale of life, organized crime, and love in the 1940s, 1950s and 1960s in New York City's East Harlem.
Press Release
-
Feb 4, 2015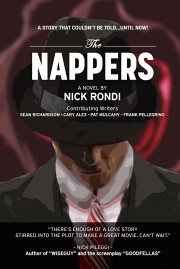 New York, NY, February 4, 2015 (Newswire.com) - Taken from real-life stories that have never been told before, "The Nappers" from Page Publishing gives readers a rare and inside view of "The Life" in New York's East Harlem during its heyday as the largest enclave of Italian-Americans in the United States. "The Nappers" masterfully weaves a tale of love, honor, betrayal, greed, and violent retribution.
Told by the younger brother of protagonist Joey Rendino, this is one man's journey through the complex and Machiavellian world of organized crime, the de facto ruler of the East Harlem community. Joey becomes disillusioned with "The Life" due to what he sees as its hypocrisies and lack of true honor and loyalty. As a result, he decides to strike out on his own covert venture - kidnapping other mobsters, hence the title - with a hand-picked crew of unlikely co-conspirators.
As his secret venture unfolds - and eventually unwinds - Joey finds himself hopelessly in love with neighborhood beauty Carole. Struggling to keep his darkest secrets from the people he loves most - Carole and his brother, Vinnie - Joey's life leads down a path of eventual and inevitable self-destruction.
First-time author Nick Rondi says: "Growing up in East Harlem in the 1940s through 1960s, I witnessed first-hand the inner machinations of this complex, beautiful yet often violent urban enclave that seemed like a world unto itself, far removed from the rest of 'The City.' I was inspired to write this book because of the eventual dismantling of this once-vibrant and unique community in the name of 'urban renewal.'"
Nick Rondi's contributors include Cary Alex, Sean Richardson, Patricia Mulcahy and East Harlem native Frank Pellegrino-owner of the legendary Rao's Restaurant.
"The Nappers" is available for purchase online at the Apple iTunes store, Amazon, Google Play or at Barnes and Noble.
For additional information or media inquiries, contact Page Publishing at 866-315-2708.
---
Categories: Books
Tags: Nick Rondi, Page Publishing, The Nappers
---