Lose Weight: Motivating Nutrition Planner App With Millions of Android Users Is Now Available for iOS
Press Release
-
updated: Sep 28, 2015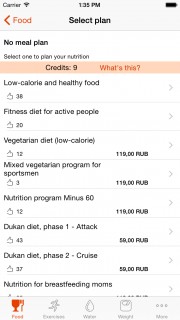 SAINT-PETERSBURG, RUSSIA, September 28, 2015 (Newswire.com) - ​​Harmonic Soft LLC, developer of the popular nutrition helper "Lose Weight Without Dieting" for Android, announces the release of the iOS version of the app. The iOS application name is "Lose Weight". The main features of this nutrition helper are predefined nutrition plans and motivation to lose weight.
"Lose Weight" differs from ordinary calorie counters by providing multiple predefined nutrition and exercise plans at first start. By following the plan, the user loses weight 1.5 times faster in comparison with free nutrition. The user can choose between 10 predefined plans, such as vegetarian diet, Mediterranean nutrition, or Atkins diet. The developers even provide nutrition plans for breastfeeding mothers.
"This is the best app for weight losers! I tried all of them. There are all products and info on proteins, fats and carbs. It's fun to gain bonuses."
"Lose Weight" can be also used to keep the user's daily food and exercise diary. Healthy and unhealthy dishes are both marked by different colors, so the user can easily choose healthy foods. Some dishes are even accompanied by the recipe! The
app
allows user to track water consumption and weight, as well as breast, waist and other body measurements. Every day the user gets a hint how to lose weight faster.
Users are motivated to keep living a healthy lifestyle by earning rewards for regular usage over long amounts of time. The users who keep track of their foods, exercises and weight for an entire week, get the Pro-version of the app for free. This is a nice bonus in addition to the primary goal of weight loss. The average user loses 2-4 pounds within the first week of using the app.
"Lose Weight" is one of only a few apps from the "Health and Fitness" category to receive a maximal rating of 5 stars from 160 votes from USA, Germany and Russia. "Lose Weight" for iOS is expected to be a leading fitness app considering that the Android version was downloaded and highly rated by more than one million users.
The app is available for Apple mobile devices having iOS 7.0 and higher. The base version is available for free. There are two free nutrition plans; the price of other plans varies from $0.99 to $1.99. The full version costs $4.99 and includes 3 nutrition plans for free, water tracking and extended nutrition statistics. The paid version also does not contain ads. 
Contacts:
Vsevolod Mayorov
Project Manager
harmonicsoft@gmail.com
Andrew Sundukov
Marketer
andrew.sundukov@gmail.com
Links:
https://itunes.apple.com/en/app/lose-weight-diet-planner-assistant/id969787389?ls=1&mt=8 
https://play.google.com/store/apps/details?id=ru.harmonicsoft.caloriecounter&hl=en
About the company:
Harmonic Soft LLC has developed apps for a healthy lifestyle since 2013. The company's mission is to provide people with user-friendly software that helps every user start and maintain a healthy lifestyle.
Share:
---
Categories: Exercise and Physical Fitness, Dieticians and Nutritionists
Tags: dieting, fitness, lose weight, workout
---