Local Indiana Library Discovers a Marketing Firm Within Their Own Walls
The Hamilton East Public Library was on a search to find a team to help with their rebrand, as well as the redesign of their website. After interviewing a number of candidates, they realized that the candidate they had chosen was a team that already worked within their own building.
Press Release
-
May 5, 2015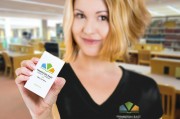 Fishers, IN, May 5, 2015 (Newswire.com) - When the Hamilton East Public Library recently decided to redesign their logo and website, they had no idea they would ultimately partner with a marketing team that worked in one of their own buildings.
The staff members from the library who were heading up the project interviewed a number of marketing firms for the redesign before deciding to work with Iconic Digital Agency and Reborn Code, startup companies that were both located in Fishers, Indiana.
The Twist: Both Iconic Digital Agency and Reborn Code work out of a co-working space located in the lower level of the Fishers branch of the Hamilton East Public Library (HEPL).
"We are so happy to be working with the teams from Iconic Digital and Reborn Code, especially since they turned out to be our neighbors from Launch," said Cheryl Jurgens, Community Relations and Marketing Manager at Hamilton East Public Library. "We had no idea when we first brought them in for their interview that they were right in our backyard."
The team at Iconic Digital Agency was just as excited about the coincidence.
"We come to the Fishers branch of the Hamilton East Public Library every single day for work," said Jason Hutcheson, owner of Iconic Digital Agency. "We had no idea when we first set up our office at Launch Fishers that we would someday have the honor of working with the library."
Hutcheson also said that he feels grateful for the co-working space at Launch Fishers because it was there that Iconic Digital was connected with the development team at Reborn Code. Reborn specializes in back end development, and assisted the design team at Iconic Digital with the library catalogs, website search functions and more.
"We are grateful that HEPL selected two startups in the community to develop their new website," said Darye Henry, the Founder & CEO of Reborn Code said. "This partnership between our companies and HEPL is a direct result of the efforts by the City of Fishers to make this a vibrant community for entrepreneurs. We hope that the HEPL website is just another example of showing how innovation is not only good for business but for civic services as well."
This partnership between the library and two local businesses is proof that the library is constantly striving to do more for the community than meets the eye.
To visit the library's new website and see their new branding in action, visit hepl.lib.in.us. Iconic Digital Agency is a branding, web design, and creative marketing firm in Fishers, Indiana.
For more information, contact Cheryl Jurgens at jurgensc@hepl.lib.in.us or 317-770-3239.
Share:
---
Categories: Advertising, Small Business, Town and City Government
Tags: library, local business, marketing
---