Joining Mekong Delta Tour in Flooding Season
Mekong Delta Vietnam is much appealing and worth visiting than ever in the season of dipping in immense water.
Press Release
-
Oct 22, 2015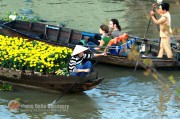 Hanoi, Vietnam, October 22, 2015 (Newswire.com) - Mekong Delta Vietnam can be visited all year round for fresh environment and luxuriant fruits orchards. However, can it be imagined the whole vast area sunk under an immense region that there is nothing else but water; and be wondered whether tourists would like to experience the flooding season in Mekong Delta tours for the feeling of inner peace and immensity it brings about?
Often lasting from August or September to November, flooding season is considered a specialty in the region where locals don't see it a natural disaster but a good chance of catching fish and other food. While people in the North and Central Vietnam are afraid of floods for the devastation they may generate, people who live in the Mekong Delta count the days until the next flooding season to make lucrative earnings during that time. Flooding season is  the best time for tours in Mekong Delta. 
There is nothing better compared with trying local daily life with the residents in the new place to visit; furthermore the same as in Mekong Delta Vietnam that experiencing the most typical time with people here will help wanderlusts somehow understand the habits and customs of this amazing region. Flooding season, known as floating one as well, sweeps everything on its route away, resulting in a new face to the Delta with rich brown sedimentary water or river deposit to make the country's rice basket richer and greener. Approaching floods means more fishes, crabs, shrimps from upstream which is also the income season for local poor people with plentiful fish and water vegetables so farmers engage themselves in fishing either for home consumption or as an off-season business. In addition, the waterfront life is most fascinating in this season that tourists will enjoy nowhere and at no time but in this only flooding season in Mekong Delta Vietnam. During the time, there are also wild water lilies - one of the well-known flower species - grow everywhere in lush paddy fields covered by water. And even though the weather at this time is not necessarily perfect, visitors will have the advantage of more favorable prices and significantly fewer tourists and just immerse in this immense land.
Once coming Mekong Delta River in flooding season, there are numbers of destinations but the hottest should-be-stopped place is Tra Su Cajuput Forest (An Giang). Covering an area of nearly 850 hectares, the forest is home for many rare animals and plants including 106 groups of water birds, bats and various rare and endangered animals and reptiles with some listed in the Red Book, plus more than 140 flora species. August to October of the lunar calendar is the best time to visit as the forest is densely covered with clusters of water ferns especially when the sun throws a golden light on the jade duckweeds overspread the water's surface. Besides, rowing along the green mysterious waterways is a particularly fascinating exploration and an unforgettable experience for anyone.
About Mekongdeltadiscovery.com: Launched by Vietnam Discovery Travel – a trustworthy tour operator in Vietnam with informative resources in along with enthusiastic team members who are completely pleased to support international visitors to come and discover this spectacular region Mekong Delta River.
Share:
---
Categories: Travel, Vacations and Travel, Personal Travel
Tags: Mekong Delta, Mekong Delta tour, Mekong delta tours, Mekong Delta trip, Mekong delta Vietnam
---