Jacksonville Mobility Dealer Provides Accessibility for PGA Event
101 Mobility in Jacksonville installed two wheelchair lifts for the PGA's Web.com Tournament at TPC Sawgrass.
Press Release
-
Oct 23, 2015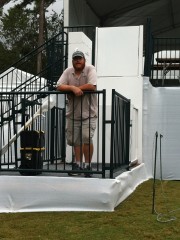 PONTE VEDRA BEACH, FLORIDA, October 23, 2015 (Newswire.com) - When it comes to ensuring accessibility at sporting events, there's one Jacksonville company busy getting their hands dirty. 101 Mobility in Jacksonville was able to provide two wheelchair lifts at this year's Web.com Tournament in Ponte Vedra Beach, Florida.
Taking place September 28 through October 5, the PGA's Web.com Tournament turned TPC Sawgrass's course into a haven for professional golfers and spectators alike. Two vertical platform lifts were installed by 101 Mobility for the grandstands at the final hole of the course in order to provide accessibility for all onlookers.
"My dad and my brother live really close to there, so they could have literally walked there from their condos," said James Sok, who runs 101 Mobility in Jacksonville with his father, Bob, and brother, Michael. "We all play golf together; so it was really cool to be out there on the green by the 18th hole. It was beautiful."
Although 101 Mobility is a leading provider of mobility and accessibility solutions (such as stair lifts and wheelchair lifts) throughout the Jacksonville area, this was the franchise location's first time providing equipment for a sporting event.
"We had to work all weekend because some of the stuff wasn't shipped on time," Sok explained with a laugh. "We got everything started on Friday when the truck arrived. We unpacked both lifts and put them in the right locations. From there, we anchored them down and wired everything up on Saturday; all before having everything finished by Sunday morning. It was rough, but we got through it."
According to Sok, he was thrilled about his company providing accessibility to the course because it shows a change in what is expected at these major tournaments.
"Seeing a big lift out there is really making a statement from the tournament associations and the PGA. It says to people, 'Just because you're elderly or disabled doesn't mean you can't come to this event,'" he remarked.
"As we set up more and more equipment like this, some people might say, 'Hey, we can go to events like this now!' Through this, events should begin to generate an even larger audience. It's better for everyone."
Sok went on to explain that he felt encouraged by the support he received from the 101 Mobility network, as well as others who offered their hand in the operation.
For more information, visit http://101mobility.com/jacksonvillefl/.  
About 101 Mobility
101 Mobility is a full-service franchise business that specializes in mobility and accessibility equipment. Products include stair lifts, ramps, auto lifts, patient lifts, pool lifts, bath lifts, vertical platform lifts, and more. Visit 101Mobility.com to learn more.
101 Mobility franchisees are supplied with geo-specific online marketing campaigns, in-person training, on-going support, and a proprietary business management platform. Visit 101MobilityFranchise.com to find more information about our franchise process.
Share:
---
Categories: Franchising, Sports
Tags: 101 Mobility, accessibility, franchise, golf, Jacksonville, sports, Web.com Tournament
---