Jacksonville, FL Based Company Silver Needle & Thread Has Incorporated a New Spin on an Old Service That Every Woman Is Familiar With-Closet Organization
Closet organization now has a new twist. Today's fast fashion is filled with toxic, hazardous and dangerous chemicals that are affecting human health? Silver Needle & Thread services can help identify toxic garments, synthetic fabrics and dangerous technology lurking in today's wardrobes.
Press Release
-
updated: Nov 5, 2015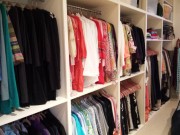 Jacksonville, FL, November 5, 2015 (Newswire.com) - ​​​​​​​​​​​​​​​​​​​​What's new about closet organization?  The company uses the term closet sweep to define services because they entail much more than organizing things. The main focus is on creating awareness and educating clients about the negative impact fast fashion has on human health; both physical and mental as well as the environment.  It's important to help them understand the full role fashion plays in everyday life from creation to discard.
What makes the service so unique and different? 
It begins by identifying all the synthetic

fibres

, chemical treatments, hazardous dyes and the presence of dangerous technology lurking in clothes.  
 
The goal is to remove all toxic garments from the wardrobe.  Research is shared showing clients how everyday garments can cause fatigue, severe headaches, nausea, muscle spasms, reproductive issues and more.
 
Natural

fibres

such as conventional cotton are identified that has been treated with toxic finishing agents like formaldehyde producing anti-wrinkle, easy care and anti-static garments is often an eye opening experience. Providing current research and scientific  data establishing a direct link to cancer verifies the company's expertise.  
Fibres used to create today's fashion are filled with hazardous and dangerous chemicals, many of which have been banned in other industrialized countries. Mass produced clothing contain chemicals such as dioxin, a compound found in Agent Orange the chemical used in the Vietnam War that to this day continues to cause severe birth defects.  Dioxins are a potent carcinogen, reproductive and developmental toxicant that's widely used in apparel.  It also has the ability to alter the immune and endocrine system contributing to a host of chronic illnesses and disease.  Clients are often pleased to learn these facts. 
Explaining how toxic chemicals in clothes can affect wellbeing, identifying major illnesses associated with their use and how they pollute the planet often changes peoples perspectives helping them understand the life cycle of garments.  Knowing that a basic shirt can contain up to 12,000 chemicals or the textile industry is the 2nd largest polluter on earth is highly motivating for anyone seeking to do the right thing.  
Clients are encouraged to interact and engage throughout the process, creating a connection to establish mindful and conscious behavior that's lasting.  Taking the time to ensure clients understand they have the power to change the way they view fashion, consumption habits and the psychology involved with why unused and unwanted clothes are left hanging to take up valuable space for year's offers a sense of liberation.  All remaining services follow traditional closet organization.  
The process is completed by custom sewing/designing any key items needed incorporating image, body analysis and color consulting.  Other affiliate companies offer discounts on basic replacements such as t-shirts, tank tops, underwear, sweaters, etc.  The service is designed to help consumers transition to a clean, organic, natural and sustainable wardrobe that's right for them.  Many are beginning to realize there's more to fashion than what meets the eye and are digging deep to see the big picture- current habits simply cannot be sustained.   The mission is to reduce the negative impact of fashion-period and the focus is on connecting all the dots, transforming and changing lives one closet at a time.  
To learn more visit: http://www.silverneedleandthread.com                                   
See our latest article at: https://www.linkedin.com/pulse/becoming-organized-can-yield-many-gifts-patricia-davis?trk=mp-author-card
Share:
---
Categories: Fashion and Apparel, Fashion
Tags: closet audits, closet organization, eco-friendly clothing, eco-friendly products, fashion, Organic clothing, organic cotton, shopping., sustainable fashion, sustainable home organization, toxic apparel, toxic clothing.
---
Related Files
Additional Links