Historic Visit Marks New Chapter in Vietnam-US Ties: Foreign Experts
The US visit by the first top leader of the Communist Party of Vietnam marks a new chapter in Vietnam-US relations, foreign scholars have stated.
Press Release
-
updated: Jul 13, 2015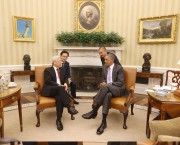 Hanoi, Vietnam, July 13, 2015 (Newswire.com) - "As Communist Party of Vietnam General Secretary Nguyen Phu Trong heads his way back to Hanoi, he can congratulate himself on a most successful visit to the US, in particular the completion of a program packed with meetings with the top leadership in Washington," said Alexander Neill, Shangri-La Dialogue Senior Fellow at the International Institute for Strategic Studies (IISS) - Asia.
Solid foundation
Celebrating 20 years of diplomatic relations with the US, General Secretary Nguyen Phu Trong was keen to emphasize the friendship the US and Vietnam enjoyed during World War Two, which ended 70 years ago. Upon New Vietnam's independence, Ho Chi Minh quoted the US declaration of independence and the inalienable right to life, liberty and the pursuit of happiness. A good start, it would seem, and only now after a long hiatus, the US president has accepted his invitation to visit Vietnam.
"Despite the enduring legacy of the dark years of the war of resistance, where poisons and unexploded ordinance still plague the people of Vietnam, Trong's visit marks a new chapter in US-Vietnam relations," stated Alexander Neill. According to him, although there are persistent questions on Vietnam's human right record in the US and some other issues, the bilateral relationship seems set for ambitious new horizons.
A US-Vietnam defence cooperation memorandum of understanding was signed in 2011 and reinforced by a joint statement on defence cooperation in June this year. The US and Vietnam share common strategic concerns over maritime security and territorial disputes in the East Sea (South China Sea). General Secretary Trong shared very similar language to the US and its Asian allies on the need for peace and security in Vietnam's neighbourhood, especially using identical language on the sanctity of freedom of navigation and over flight in the region, adherence to international law and opposition to unilateral disruption of the status quo, said Neill.
A comprehensive partnership was agreed in 2013, but the US only ranks number 7 in inward investment to Vietnam. General Secretary Trong has welcomed the conclusion of the Trans-Pacific Partnership (TPP), which will allow recognition by the US of Vietnam as a market economy and will remove heavy trade barriers. Importantly, Vietnam's entry into TPP will also serve as a force multiplier for market access to the 600 million inhabitants of the ASEAN region and could become an important pillar of the US rebalance to Asia policy, said Neill.
This comes on the heels of US Secretary of Defense and Senator John McCain's visit to Vietnam before the Shangri-La Dialogue and recent visits by General Martin Dempsey, Secretary of State John Kerry, Democratic Leader Nancy Pelosi, Secretary of the Interior Sally Jewell and several legislators.
Both economic and security focused
At the heart of the matter are two key objectives for the US: to reinforce the US rebalance policy to Asia, which some critics have described as hollow, and a change in the direction of US policy to China, Neill stated. The two elements to the rebalance are both economic and security focused.
On the economic front, now that the TPP has been cleared on Capitol Hill, Vietnam is a key target within Southeast Asia for US bilateral trade and investment. The US will be seeking to optimize its footprint in Vietnam, where US friends and allies such as South Korea and Japan already have a significant impact.
Politically, creating US leverage within ASEAN is also a core goal of the Obama administration, Neill said, noting that ASEAN in the aggregate amounts to an enormous trade opportunity in its own right and a market to rival that of China.
On the security front, the US sees an opportunity of soft defense engagement with Vietnam, encouraging situational awareness in the East Sea and deterring China from completely dominating the Spratly islands through its gargantuan reclamation efforts, Neill stated. But the US will tread carefully - there are still congressional constraints on military engagement with Vietnam and the US does not want to aggravate an arms race in the region. But military cooperation on humanitarian assistance and disaster relief, joint exercises and cooperation with the Vietnamese coast guard will help to meet the needs of both countries.
A crucially important aspect to Obama's meeting with General Secretary Trong is that he has met with top politburo members in their capacity as communist party leaders. In this sense, the US has sent a very strong message that it is serious in its new levels of engagement with Vietnam. Equally important, this demonstrates the Communist Party of Vietnam's willingness to engage with the US leadership at the highest level, despite the lack of an analogous political hierarchy. "As both countries move towards a period of political transition, and President Obama and General Secretary Trong will be stepping down form their positions, they have both laid a strong foundation for their political successors," Neil stated.
Not only historic but also substantive
The meeting between President Barack Obama and General Secretary Nguyen Phu Trong was not only historic but also substantive, stated Professor Carlyle Thayer from the University of New South Wales at the Australian Defence Force Academy, who is also Director of Thayer Consultancy.
President Obama accorded General Secretary Trong the honor of receiving him in the Oval Office at the White House normally reserved for heads of government and state. This meeting was substantive for six reasons, Thayer stated.
First, both leaders agreed to develop a long-term partnership on the basis of respect for each other's political systems, independence, sovereignty and territorial integrity.
Second, both leaders pledged to advance their agreement on comprehensive partnership by stepping up high-level visits and creating mechanisms to implement cooperation in nine major areas outlined in the 2013 agreement. The US and Vietnam signed five memoranda of understanding, including the establishment of the new Fulbright University in Vietnam.
Third, both leaders committed themselves, in cooperation with other nations, to complete negotiations on the TPP and to carry out reforms necessary to reach a high-standard agreement.
Fourth, both leaders pledged that Vietnam and the US would work more closely together to contribute to peace, stability, cooperation and prosperity in the Asia-Pacific both bilaterally and through regional multilateral organizations such as APEC, and ASEAN-related institutions.
Fifth, both leaders agreed to step up defense and security cooperation in maritime security, maritime domain awareness, defense trade and information sharing, and defense technology exchange.
Sixth, both leaders directly addressed difficulties and challenges in their bilateral relations - such as human rights, market economy status - and decided to conduct positive, franks and constructive political dialogues to reduce these differences and build trust./.
Photo caption: Communist Party of Vietnam General Secretary Nguyen Phu Trong held talks with US President Barack Obama at the White House's Oval Office on July 7.
Photo: VNA
Share:
---
Categories: Politics
Tags: Barack Obama, Nguyen Phu Trong, partnership, party leader, relations, US, Vietnam
---