Hastings & Hastings Offers Advice to Holiday Travelers
Hastings & Hastings notes that the holiday season is almost here. The beginning of Hanukkah is just 5 days away and Christmas is just 24. For many individuals, the holiday season means stress, worry, anxiety, and parental disappointment. Hastings & Hastings believes this doesn't have to be the case. Many of these concerns can be address and alleviated through careful planning and foresight. To that end, Hastings & Hastings offers the following advice to holiday travelers
Press Release
-
updated: Dec 7, 2015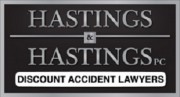 Phoenix, AZ, December 7, 2015 (Newswire.com) - Planning ahead and booking early can save holiday travelers potentially hundreds of dollars in airline fares. Hastings & Hastings further advises individuals who will be traveling by plane to book flights on non-peak travel days. Leave a day early and stay a day late. Not only will travelers save even further on their travel costs, they will have the delightful opportunity to spend even more time with their families. It will be a joy for everyone involved.
In addition to saving money, traveling on off days and during off hours will save on stress and anxiety. A peaceful, sparsely populated redeye flight may force individuals to get up early in the morning, but they will then get to enjoy a peaceful flight. They might even be able to take a nap! To the people at Hastings & Hastings, that sounds delightful indeed.
Many airlines charge travelers an additional fee to check baggage. Individuals can save on time and money by packing light and avoiding checking baggage. This will also eliminate the risk of having an airline lose baggage. Nothing will but a damper on the holiday season worse than the loss of an entire bag of valuable presents.  
Hastings & Hastings would also like to remind holiday travelers to plan a convenient way to get to and from the airport. This is an optimal time to enlist the aid for friends and family. Hastings & Hastings believe with absolute certainty in the potency of the holiday spirit. Offering someone a ride to the airport is a great way to spread positivity and kindness.
"I love nothing more than surrounding myself with friends and family during the holiday season. I have done more than enough traveling in my day, so I have picked up some pretty savvy holiday traveling tips over the years. I just hope everyone else can benefit from the hard lessons I have learned! Safe travels everyone, and enjoy the holidays," said David Hastings, the founder of Hastings & Hastings. 
About Hastings & Hastings
Hastings & Hastings is an Arizona consumer law firm. We are an experienced trial law firm that represents personal injury and wrongful death victims at a Discount Fee.
Contact Information
Kristy Guell
(480) 706-1100
kristy.guell@hastingsandhastings.com
http://hastingsandhastings.com
Share:
---
Categories: Commercial Law, Business, Law
Tags: acc, accident injury lawyers phoenix, lawyers phoenix, phoenix accident lawyers, phoenix personal injury attorny
---