Hastings & Hastings Offers Advice on Tire Blowouts
Evidence of tire failure is everywhere. Broken, shredded, torn-up, black piles of rubber litter streets and highways along every city across America. Reminders of tire failures past. Tire failure is one of the leading causes of accidents. It is also one of the most avoidable. Hastings & Hastings offers advice.
Press Release
-
Sep 11, 2015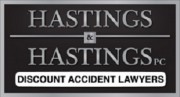 Phoenix, AZ, September 11, 2015 (Newswire.com) - Tire blowouts typically happen because a tire is under-inflated. This combined with outside factors causes the tire to explode. This is the result of a sudden release of air pressure from inside the tire. The leading external causes for tire blowouts are potholes, nails, and other road debris. Overloading your car with heavy cargo can also place unneeded strain on a tire. If that tire is already worn down it could possibly give way. Even if your tires are in pristine condition it is best that you pay close attention to road conditions and try to avoid anything that may puncture your tire.
In the event that a tire blow out does occur there are still steps that can be taken to avoid an accident. It is advisable that you continue your current rate of speed after the tire blowout occurs. Gradually slow down, then come to a stop. If speed is suddenly or immediately dropped, it is possible to lose control of the car. A blowout will cause the car to drift and become difficult to steer. Gently counter-steering to help compensate for this is advisable. When driving, maintain a safe distance behind the vehicle you are following. This ensures you have enough time to correct your motion and compensate for the blowout.
"Summer is a particularly common time for blowouts to occur" said David G. Hastings, attorney at Hastings & Hastings. "Asphalt can reach up to 200 degrees in the summertime and there is no way for your tires to escape. You can run under some shade and enjoy a lemonade or go inside and enjoy the air conditioning, your tires don't have that option.  I always advise that individuals pay extra attention to tire maintenance during the summer months," he added.
Indeed keeping your tires properly inflated can go a long way towards preventing blowouts. Hastings & Hastings advises everyone to keep a tire gauge in their glove compartment and to check their tire pressure every other time they stop for gas.
"I check my tire pressure regularly and I have not had to deal with a blowout in years," Hastings added.
About Hastings & Hastings
Hastings & Hastings is an Arizona consumer law firm. We are an experienced trial law firm that represents personal injury and wrongful death victims at a Discount Fee.
Contact Information
Kristy Guell
(480) 706-1100
kristy.guell@hastingsandhastings.com
http://hastingsandhastings.com
---
Categories: Commercial Law, Business, Law
Tags: car accident lawyer phoenix, personal injury lawyer phoenix, phoenix attorneys, phoenix personal injury attorney, phoenix personal injury lawyer
---