Hastings & Hastings Nurtures Young Lawyers
John Fitzgerald Kennedy once said "Children are the world's most valuable resources and its best hope for the future," and Hastings & Hastings could not agree more. If children are not learning, growing, and developing, there will be no tomorrow.
Press Release
-
Sep 21, 2015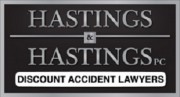 Phoenix, AZ, September 21, 2015 (Newswire.com) - Young lawyers, fresh out of law school are the children of the legal world. They are full of energy and potential. They have big ideas, are hungry to succeed, and are even hungrier to make their mark on the world. They also need to be nurtured, taught and guided so that they can fully realize their potential. Hastings &  Hastings has always placed a priority on this process. Hastings & Hastings values hiring and developing the type of bright and enthusiastic young lawyer who is excited to become a leader in the legal profession.
Hastings & Hastings attorney Erwin S. Braich is quickly approaching his one year anniversary with the firm. Erwin holds a B.A. in Political Science from Arizona State University, a M.A. in Human Rights Studies from Columbia University, and a J.D. from Case Western Reserve University of Law which he attended on the Hugo Grotius International Law Scholarship. Hastings & Hastings is proud to employ a bright young start like Braich, and as delighted as they are with his performance and professionalism to date, they are even more excited about his future.
"Bright young lawyers like Erwin are going to shape not just the future of this firm, or the legal profession, but that of the State of Arizona and the Nation as a whole. I have always wanted Hastings & Hastings to be a forward looking company. Our discount fee was ahead of its time and I know more great ideas like that are out there," said David Hastings, founder of Hastings and Hastings.
Hastings & Hastings has always valued the individuals that make it so successful. Every person employed by Hastings & Hastings plays a valuable and important role in the firm's goal to deliver justice and earn its clients the settlements they deserve. Its discount fee is possible because of the great people it employs. 
"Creating a nurturing environment has always been important to me. Young lawyers need to be pushed, but they also need to feel comfortable and be given room to learn. I really think this is something we have accomplished here at Hastings and Hastings," added Hastings & Hastings founder David Hastings.
About Hastings & Hastings
Hastings & Hastings is an Arizona consumer law firm. We are an experienced trial law firm that represents personal injury and wrongful death victims at a Discount Fee.
Contact Information
Kristy Guell
(480) 706-1100
kristy.guell@hastingsandhastings.com
http://hastingsandhastings.com
Share:
---
Categories: Commercial Law, Business, Law
Tags: car accident lawyer phoenix, personal injury lawyer phoenix, phoenix attorneys, phoenix personal injury attorney, phoenix personal injury lawyer
---