Hastings & Hastings Lauds Police Recruits
Our law enforcement officials play a vital role in our great City of Phoenix. They protect us, serve us, put themselves in constant danger, and do everything they can to keep our streets clean. There is always a need for more quality law enforcement officials, and The Arizona Law Enforcement Academy is always doing its best to fill that need.
Press Release
-
Oct 6, 2015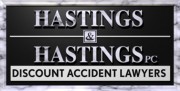 Phoenix, AZ, October 6, 2015 (Newswire.com) - The dedicated recruits of the Law Enforcement Academy spend 20 weeks going through exhausting mental and physical training. Recently they got a day off from their rigorous training regime. What did they decided to do with that day off? Why, they decided to feed the needy, that's what they did! Hastings & Hastings could not be more proud of our Law Enforcement Academy Recruits.  
Tempe officer Sgt. Karin Betz was running her first ever recruitment class. She was given the rather massive job of preparing the 48 members of class 481 for life as law enforcement officers. That life comes with an edict to "protect and serve." Betz thought, what better way to learn how to serve, than community service?
Class 481 worked with Mesa based international outreach program Feed My Starving Children. Feed My Starving Children is a non-profit organization founded to help feed hungry children worldwide. To date, meals distributed by FMSC have reached 70 countries around the world. The recruits of the Phoenix Law Enforcement Academy were delighted to help feed the needy children of the world.
The rowdy recruits were given two hours to do as much work as they could. When the time limit hit, the results were astounding. In just 2 hours, the recruits had packaged 138 boxes of food. That is enough food for 28,080 meals! To Class 481, Hastings & Hastings says, "job well done!"
"This is why it is so special to live in the City of Phoenix. We have such an incredible community here. There are so many people who are dedicated to improving not just our city, but our world. What we do here at Hastings & Hastings pales in comparison to what our officers accomplish on a daily basis, but we try to do everything we can to make our community a better place," said David Hastings, the founder of Hastings & Hastings. 
About Hastings & Hastings
Hastings & Hastings is an Arizona consumer law firm. We are an experienced trial law firm that represents personal injury and wrongful death victims at a Discount Fee.
Contact Information
Kristy Guell
(480) 706-1100
kristy.guell@hastingsandhastings.com
http://hastingsandhastings.com
Share:
---
Categories: Commercial Law, Industries
Tags: injury lawyer phoenix, personal injury attorney phoenix, phoenix law office, phoenix legal
---