Hastings & Hastings Encourages Patience With Student Drivers
Hastings & Hastings knows that even the most experienced and skilled drivers started off as unsure, cautious teenagers, when they first sat down at the wheel of a car. Driving a car is an incredible responsibility, and it takes a large amount of knowledge and skill. Hastings & Hastings, in an effort to keep the roads of Arizona safe, encourage everyone to show patience with student drivers.
Press Release
-
Oct 12, 2015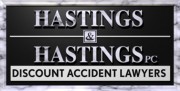 Phoenix AZ, October 12, 2015 (Newswire.com) - Driving requires not only physical skill, but an immense amount of knowledge. Because of this, there are strict standards held by the Department of Motor Vehicles that must be met before a driver's license can be issued. Student drivers need to spend time practicing behind the wheel and studying the rules and laws of the road.
Student drivers will often enroll in a program designed to teach them how to drive. Students and instructors will hit the road in a marked vehicle, which has been specially designated for instructive driving. Individuals who see these vehicles out on the road should treat them with caution. Student drivers will not have the good habits, and confidence of drivers who have been navigating the streets for years. They will make mistakes and hesitate, which could lead to dangerous situations.
Hastings & Hastings reminds readers, at one point, everyone was a student driver. The safety of all drivers is equally important. The responsibility to maintain this safety is held equally by everyone on the road.
If individuals see student drivers out on the road, they should give them a wide birth. Hastings & Hastings advises that the worst thing anyone could do is to tailgate, speed-by, or otherwise create difficult driving conditions for the student driver.
Hastings & Hastings acknowledges that, unfortunately, difficult and potentially hazardous driving conditions do exist in the real world. Eventually, student drivers will need to learn how to navigate these sticky situations, but it is important to gain some experience and confidence before they are subjected to potentially life and death situations.
With proper education, training, and experience, student drivers can one day develop into exemplary and safe drivers. Every safe driver on the road makes the road safer for everyone. Good habits last forever. Hastings & Hastings calls on the community of the Greater Phoenix Metropolitan area to have patience with student drivers.
About Hastings & Hastings
Hastings & Hastings is an Arizona consumer law firm. We are an experienced trial law firm that represents personal injury and wrongful death victims at a Discount Fee.
Contact Information
Kristy Guell
(480) 706-1100
kristy.guell@hastingsandhastings.com
http://hastingsandhastings.com
Share:
---
Categories: Commercial Law, Business, Law
Tags: car accident lawyer phoenix, personal injury lawyer phoenix, phoenix attorneys, phoenix personal injury attorney, phoenix personal injury lawyer
---