Hastings & Hastings Encourage Comparison Shopping for Auto Insurance
Hastings & Hastings has always had a passion for savings, which is why they pioneered their legendary Discount Fee over twenty years ago. The discount has always meant that Hastings & Hastings' clients save money on legal fees. Hastings & Hastings would like to see this savings extended to insurance payments as well.
Press Release
-
Sep 25, 2015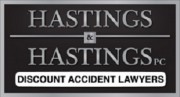 Phoenix, AZ, September 25, 2015 (Newswire.com) - If drivers have not recently reviewed their insurance rates, it is possible that they are leaving hundreds, If not thousands of dollars on the table each year. Insurance rates are constantly changing, and a premium that was good one year may no longer be so valuable the next year. The best way to review current insurance policies is through comparison shopping.
Policy holders should start off by grabbing a copy of their current auto policy and reviewing it. What services are they currently paying for? Pay close attention to deductible and liability limits. If policy holders are not totally familiar with their current terms they will not know what to look for while comparison shopping.
Hastings & Hastings encourages drivers to be well prepared before beginning comparison shopping. Before making contact with another potential insurer, shoppers should make available their driver's license number, and the VIN number of their car. They should also be prepared to answer questions regarding their driving history. Details on accidents and tickets will be needed. Answering questions thoroughly and accurately is crucial when it comes to getting an accurate quote.
Once quotes are available, drivers should take caution that they are only comparing quotes on policies with identical coverages and offers. Inaccurate or nonequivalent comparison could lead to individuals making poor decisions that may cost them money in the long term.
Familiarity with insurance terms can help comparison shopping. Collision, comprehensive, and liability are terms that every potential policy holder should become comfortable with. Collision coverage pays for repairs to your own automobile. Comprehensive coverage pays for damage from incidents such as fire, floods, or theft. Liability insurance pays for individuals or property you may damage with your car in the event of a collision.
Hastings & Hastings believes in arming people with information. They hope that by educating drivers, they can also help people save money.
About Hastings & Hastings
Hastings & Hastings is an Arizona consumer law firm. We are an experienced trial law firm that represents personal injury and wrongful death victims at a Discount Fee.
Contact Information
Kristy Guell
(480) 706-1100
kristy.guell@hastingsandhastings.com
http://hastingsandhastings.com
Share:
---
Categories: Commercial Law, Business, Law
Tags: car accident lawyer phoenix, personal injury lawyer phoenix, phoenix attorneys, phoenix personal injury attorney, phoenix personal injury lawyer
---