Hastings & Hastings Encourage Attending Defensive Driving Class
Hastings & Hastings acknowledge the stress and worry produced by getting in a wreck or receiving a ticket. Arizona drivers are involved in hundreds of traffic incidents every single day ranging in type from fender benders, highway collisions, speeding tickets, to simple parking tickets.
Press Release
-
Sep 23, 2015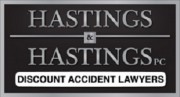 Phoenix, AZ, September 23, 2015 (Newswire.com) - Minor collisions are expensive and the tickets usually associated with them compound that expense. Even a simple speeding ticket can be pricy. Hastings & Hastings would like to inform drivers that one of the best ways to deal with this expense is through defensive driving class.
The Arizona defensive driving course offers drivers who have been cited for a violation a chance to fix their ticket. The total cost of the course is $114.95, $49.95 for enrollment, $20.00 in state fees and $45.00 for a state surcharge. This total is lower than the cost for most moving violations so defensive driving school is an excellent way to save drivers money.
Each time a driver is convicted of a moving violation points are assessed against their permanent driving records.  In Arizona, your license will be suspended if you accumulated 8 or more points in a single year. A single speeding violation will add 3 points on to your driving record. Defensive driving class gives motorists a chance to remove points from the license. The last thing anyone wants is to lose their legal ability to drive. Hastings & Hastings advises individuals with points on their driving record to attend defensive driving class 
Not only is defensive driving class a great way to save money and protect your driving record, is it also a good way to improve your driving habits. Defensive driving is one of the best ways to keep safe out on the road. The safer you are, the safer everyone else on the road is, too!
Driversed.com offers online classes that are accessible 24 hours a day 7 days a week. Individuals can log on at their convenience and complete the course when it is best for them. Online class means you don't have to worry about the material being covered so quickly that you possibly miss an important detail.
Hastings & Hastings stands in firm support of defensive driving classes, and of driversed.com in particular.    
About Hastings & Hastings
Hastings & Hastings is an Arizona consumer law firm. We are an experienced trial law firm that represents personal injury and wrongful death victims at a Discount Fee.
Contact Information
Kristy Guell
(480) 706-1100
kristy.guell@hastingsandhastings.com
http://hastingsandhastings.com
---
Categories: Commercial Law, Business, Law
Tags: car accident lawyer phoenix, personal injury lawyer phoenix, phoenix attorneys, phoenix personal injury attorney, phoenix personal injury lawyer
---