Hastings & Hastings Donates Generously to the Special Olympics
In an effort to support the Special Olympics, Hastings and Hastings, Arizona's premier discount accident lawyers, donates generously to support the 16,000 athletes with mental disabilities in the valley, and support the nearly 180,000 mentally challenged individuals of Arizona
Press Release
-
Jul 23, 2015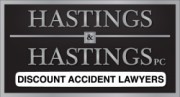 Phoenix, AZ, July 23, 2015 (Newswire.com) - It seems natural for the Special Olympics and Hastings & Hastings to team up, given the rise of the two organizations runs parallel. Beginning in 1962, the Special Olympics was born by a few bright individuals who dreamed of creating a day camp for individuals with mental disabilities. Over the years, the day camp has evolved into one of the largest charitable organizations in the world. Indeed, it supports more than 4.4 million athletes, by providing them an outlet for competition and a place to find friendship and support. Some of the events include: skiing, track and field, archery, horse racing, hockey, basketball, tennis, and bowling, just to name a few. Hastings & Hastings has evolved alongside the Special Olympics to become one of the most respected law firms in Phoenix, Arizona. They employ Columbia matriculates, students graduating summa cum laude from ASU and U of A, and boast an impressive 11 locations in the valley. What's more, they have brought in settlements weighing in at seven figures, and are responsible for more than $11,000,000 in customer savings in the past seven years.
Indeed, the donation to the Special Olympics is an affirmation of Hastings & Hastings support for the community. They are also responsible for the Down Right Beautiful Fashion show, an event supporting research at the Phoenix Children's Hospital for children with Downs syndrome. But it seems that Hastings & Hastings gets more than it gives when it comes to philanthropy:
"Every year we donate and volunteer at the Special Olympics, because we believe in the cause. Everyone can learn a thing or two from the athletes, and every year, we feel content knowing we made a difference," said David Hastings, President and Attorney at Hastings and Hastings.
---
Categories: Commercial Law, Industries
Tags: auto injury lawyer phoenix, injury lawyer phoenix az, personal injury attorneys phoeni, phoenix lawyer
---