Hastings and Hastings Lauds Special Olympics with Generous Donations
Press Release
-
updated: Jun 29, 2015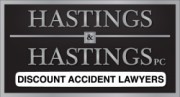 Phoenix, Arizona, June 29, 2015 (Newswire.com) - In an effort to encourage the Special Olympics World Games, Hastings and Hastings contributes generously to the charity. The donation confirms a bond between the Special Olympics charity and Hastings and Hastings, which have both been serving Phoenix, AZ for over thirty years.
This bond seems to exemplify a relationship that can be described as inevitable. The Special Olympics began when a few young philanthropist decided to create a day camp for adults and children with intellectual disabilities. The camp grew into one of the largest charitable organizations to date, supporting 4.4 million athletes, all around the world. The arch of progress intersects with Hastings and Hastings. Two brave law school grads decided they would take a leap of faith and begin their law careers on their own terms. Since then, Hastings and Hastings has become one of the largest and most renowned law firms in Phoenix, serving the citizens justice for over 30 years. The Special Olympics and Hastings and Hastings were destined to form a relationship.
"The Special Olympics is an important event that symbolizes courage, comradery, and hope. Every year we donate and volunteer. And every year we come away content knowing we made a difference," said David Shtogren, Attorney at Hastings and Hastings.
Indeed, the Special Olympics is one of the most respected charities in the world, and certainly in Phoenix, Arizona. The Special Olympics offers 16,000 athletes a chance to compete and display their hope and courage. What's more, it is no doubt a rallying point for the 180,000 intellectually disabled citizens of Arizona. Some of the events included in the games are: bowling, track and field, gymnastics, basketball, croquet, billiards, rowing, table tennis, cycling, and archery.
Hastings and Hasting also puts on an annual fashion show designed to raise money for the Phoenix Children's Hospital Foundation. This event is intended to raise money for the Downs Syndrome Clinic at the Phoenix Children's Hospital. In 2015, 200 guests poured in to watch 20 patients with Downs Syndrome walk the runway sporting the latest fashions. Miss Arizona was in attendance, and a silent auction sold an autographed guitar by the band Train. Indeed, Hastings and Hastings contribution to the community can only be trumped by their proficiency in recovering damages for accident victims.
Contact Information
Hastings & Hastings
http://hastingsandhastings.com
Kristy Guell
(480) 706-1100
kristy.guell@hastingsandhastings.com
Share:
---
Categories: Commercial Law
Tags: charity, donations, special olympics
---