Global Summit of City Innovators Gather in San Francisco
Global Summit of City Innovators Gather in San Francisco 15 US and International cities and mayors gather from around the world Mayor Lee to welcome over 120 speakers; 600 technologists, city innovation experts, urbanists, citizens expected to be in attendance White House (Tom Kalil, Deputy Director of the Technology Innovation for the White House) to participate
Press Release
-
updated: Jun 16, 2015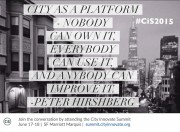 San Francisco, California, June 15, 2015 (Newswire.com) - ​​​​Global Summit of City Innovators Gather in San Francisco
15 US and International cities and mayors gather from around the world
Mayor Lee to welcome over 120 speakers; 600 technologists, city innovation experts, urbanists, entrepreneurs and citizens expected to be in attendance
White House (Tom Kalil, Deputy Director of the Technology Innovation for the White House) to participate as part of the National Week of Making 
The City Innovate Summit is happening on June 17-18, 2015 at the San Francisco Marriot Marquis. The program is organized into 8 tracks, each track representing one of the significant challenges facing cities as they engage their citizens in innovation: civic innovation, maker city, mobility, open data & privacy, small business development/entrepreneurship, sustainability, digital infrastructure, urban planning.
Keynote speakers include Mayor Ed Lee of San Francisco, Peter Hirshberg, the Chairman of the City Innovate Foundation, Jennifer Pahlka, Founder and Executive Director of Code for America and previous deputy Federal CTO, and John Seely Brown, the distinguished inventor and co-chairman of Deloitte's Center for the Edge. Tom Kalil, Deputy Director of the Technology Innovation for President Obama will join from the White House on the final day of the National Week of making  (http://cissf.org/whitehousemakes)
According to Mayor Ed Lee (San Francisco):  "We're recognizing that San Francisco is at the forefront of the city innovation movement, where technology, open data, and the startup economy intersects.  We are deeply committed to sharing what we have learned about building an entrepreneurial city and – at the same time – recognize that we have a lot to learn from other cities so we can address the significant challenges we face."
Among the many innovations pioneered in San Francisco are urban prototyping, sharing economy, urban accelerators, and the maker movement.
Peter Hirshberg, Chairman of the City Innovate Foundation noted that "we are learning that cities that think of themselves as a platform, become stronger, attract better talent, and become smarter from the bottom up. We're proud to host the first City Innovation Summit here in San Francisco, a city deeply committed to sharing what it's knows about building an entrepreneurial city as well as – in a reciprocal fashion - learning from other cities so we can address the not insignificant challenges we face in transportation, housing, and inclusive economic development."
About City Innovate Foundation @cityinnovate #CiS2015
The mission of the City Innovation Foundation is to improve our cities, make them more sustainable, just, and inclusive.  With a distinguished board of directors, the Foundation has three (3) core products:  an global summit – held in Dubai in 2014 and in San Francisco in 2015; consulting to cities; and a city innovation lab planned to debut in 2016.  Members of the board of directions include Peter Hirshberg (Chairman), Kamran Saddique (Founder & President), Mark Chandler (San Francisco Mayor's Office - Director of Office of International Trade and Commerce), Ken Singer (serial entrepreneur), Dr. Ryan C. C. Chin (MIT Media Lab - Managing Director, City Science Initiative), Dr. Mitchell Joachim (Architect and Urban Designer), and Melanie Nutter (respected sustainability expert), among others.  
Contact Information:
Jenn Sander
Partner, Re:Imagine Group
415.323.8851
twitter – @jennsander
jenn@jennsander.com
Marcia Kadanoff
​CMO, City Innovate Foundation
650.270.4309
twitter - @openmk
marciak@cityinnovate.org
Backgrounder, Visuals, and other resources available:
http://summit.cityinnovate.org/press.php
Share:
---
Categories: Non Profit, Government
Tags: cities, city innovation, mobility, open data, open innovation, privacy, sustainability, tactical urbanism, urban planning
---
Related Files
Additional Links