Fall Exhibitions at Bainbridge Island Museum of Art
The 2014 fall line up of exhibitions featuring artists: Larry "Ulaaq" Ahvakana, Rachel Feferman, Karen Hackenburg, Harry Longstreet, Woodleigh Hubbard, Jennifer Mann, Nikki McClure, and Julie Paschkis.
Press Release
-
Sep 29, 2014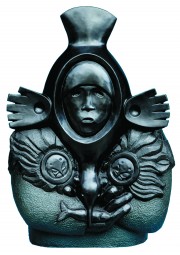 Bainbridge Island, WA / Seattle, WA , September 29, 2014 (Newswire.com) - Bainbridge Island Museum of Art is pleased to announce its 2014 Fall Exhibitions from October 11, 2014 through February 15, 2015
The new art museum, Bainbridge Island Museum of Art (or BIMA – pronounced BEE MA) presents its sixth rotation of exhibitions since it opened in June 2013.  Drawn from the diverse spectrum of art and craft produced in the Puget Sound region, BIMA's Fall Exhibitions - Rachel Feferman Retrospective: A Hole in the Heart, Larry "Ulaaq" Ahvakana: Survey, Children's Book Illustrators (a group exhibition), and Harry Longstreet: Photography - will open to the public October 11, 2014. BIMA will offer educational related curator and artist tours, lectures, and hands-on workshops in conjunction with these exhibitions.
Rachel Feferman Retrospective: A Hole in the Heart, Rachel Feferman Gallery
Spanning thirty-five years of artistic creation in a wide range of media and moods, this retrospective highlights the work of Rachel Feferman, who died of breast cancer in 2010 at the age of 55. BIMA's largest gallery is named in memory of the artist. Feferman was raised in the San Francisco Bay Area and moved to the Pacific Northwest in 1986.
Created by Bainbridge Island Museum of Art, this retrospective show includes textiles, prints, ceramics, puppets, drawings and paintings in gouache and watercolor.  Throughout Feferman's artistic career, process and technique were a springboard to expression ranging from the light and charming to the dark and disturbing.  
Twenty-five large-scale pencil and graphite drawings are from a series that Feferman began in the 1990s. She had intended to make one hundred all told but the project was interrupted half way through by her illness. Forty-two of these are reproduced in the book, Golden Hands: Drawings and Reflections (2009). They are inspired by the gift of a beautifully sewn cotton apron (included in the exhibition) that her grandmother, Helen Grand Feferman, made at the age of 14 in pre-World War I Poland; an émigré to the US following the war who lived to the age of 100.  The drawings incorporate frequent references to the apron as well as to symbols of Jewish life and, in the end, to Helen herself, while reminders of the Holocaust form a thrumming undercurrent.
Larry "Ulaaq" Ahvakana: Survey, Jon & Lillian Lovelace Gallery
Larry Ahvakana was raised in Barrow and Anchorage, Alaska. He settled in Suquamish, Washington and has been a professional artist for over thirty years.  Ahvakana is best known for his Inuit or Inupiaq figures and animals. This survey exhibition organized by Bainbridge Island Museum of Art includes works in stone and woodcarving, printmaking, and glass. "All my life, I was surrounded by my culture and my people, the Inupiaq of northern Alaska. The dances and songs of the Inupiaq tradition are our oral history — the emotional interpretation of our respect for and involvement with the environment of the North Slope of Alaska … My work incorporates many media and materials and a sense of my cultural design. The interpretation is very personal. I hope the conceptual format gives viewers an idea of the Inupiaq tradition."
Children's Book Illustrators, MESA Gallery
This group exhibition will showcase the works of ­­­­­­­­local artists Woodleigh Hubbard (Bainbridge Island) with her bright, dynamic illustrations; children's book author and illustrator Jennifer Mann (Bainbridge Island), Nikki McClure (Olympia) known for her painstakingly intricate and beautiful paper cuts, and Julie Paschkis (Seattle) a painter and illustrator specializing in children's books and posters. The exhibition will include their original paintings and drawings, plus some process pieces and works in progress.
Julie Paschkis, The King and the Baby, gouache & ink on paper, 2010
Harry Longstreet: Photography, John Kenyon Ellis Bistro
Harry Longstreet is an award-winning photographer, originally from Beverly Hills, now residing on Bainbridge Island. He uses photography to try to capture the truth about diverse people and how they live. He shoots his subjects without notice. He doesn't set-up or pose his shots and only uses available light. "No one just takes up space. The human condition is an entire canvas of thoughts, emotions and reactions to circumstances."
Karen Hackenberg: Watershed, Steve and Harriet Davis Community Gallery
Karen Hackenberg lives and works in Port Townsend, WA. Her ongoing series Watershed addresses the tenuous boundary between living nature and human encroachment.  "In my ongoing painting series, Watershed, I take a light-hearted yet subversive approach to the serious subject of ocean degradation, presenting a tongue-in-cheek taxonomy of our new post-consumer creatures of the sea. The Watershed paintings are inspired by the incongruity of the man-made detritus found washed up on the otherwise pristine shores near my Discovery Bay WA studio."  Hackenberg collects this flotsam and creates meticulous gouache paintings from her seascape compositions.  This exhibition includes a selection of her paintings as well as her collected castaways that "bob in on the waves from far and near."
About Bainbridge Island Museum of Art:
Bainbridge Island Museum of Art opened to the public on June 14, 2013, and has since welcomed more than 90,000 visitors ranging from the region and all over the world. Designed by architect Matthew Coates, Principal of Coates Design Architects, the 20,000 square foot art museum is targeted for Leadership in Energy and Environmental Design (LEED) Gold status. The art museum is a collecting museum with a focus on artists and collections from the Kitsap and Olympic Peninsulas, as well as the broader Puget Sound region.  Located near the Seattle/Bainbridge Island ferry terminal at the corner of Highway 305 and Winslow Way, the main street of downtown.  Admission to the art museum is free thanks to sponsors and members. The exhibitions rotate three times per year (approx. 12 shows per year). Arts education for people of all ages, interests, abilities, and skill levels is a core value and a primary function of the art museum. Our offerings include:  gallery tours, artist talks, panel discussions, films, print and digital publications and hands-on art activities are featured. Our 95-seat auditorium hosts artist lectures, films, classical films, poetry and theatrical readings, musical performances, and community meetings. 
Physical Address:
Bainbridge Island Museum of Art
550 Winslow Way East
Website: www.biartmuseum.org 
Office phone:  206.842.4451
Toll Free: 855.613.1342
Credits:
Rachel Feferman, Golden Hands Series, Drawing 36, pencil and graphite on paper, 1997, Photo: Terry Reed
Julie Paschkis, The King and the Baby, gouache & ink on paper, 2010
Larry "Ulaaq" Ahvakana, Loon Mask, wood carving
Photo: Art Grice, Bainbridge Island Museum of Art view from Winslow Way, 2013
Media Contact:
Renate Raymond                                                                                                        renate@biartmuseum.org
Direct: 206.451.4002
Cell: 206.992.8744
####
---
Categories: Arts and Entertainment, Travel, Personal Travel
Tags: art, Harry Longstreet, Jennifer Mann, Julie Paschkis, Karen Hackenburg, Larry "Ulaaq" Ahvakana, museum, Nikki McClure, Rachel Feferman, Seattle, Woodleigh Hubbard
---