Domijump to Invest $200,000 in Trampoline Part Replacement Production Machines
Domijump will be investing $200,000 in the trampoline part replacement machines during the next financial year.
Press Release
-
Nov 5, 2015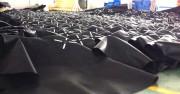 Shaoxing, China, November 5, 2015 (Newswire.com) - Domijump will be investing $200,000 in the trampoline part replacement machines during the next financial year. The company will be focusing on both universal and custom made trampoline parts. This will include fabrication of new parts and repair of broken parts. 
Why is Domijump in trampoline part replacement production machines?
 "We intend to increase our production capacity while adhering to tight quality control process due to safety concerns that have been raised so far," said Lisa Wang, the Domijump's Sales Manager. "Investing in new and upgrading existing machines is a fundamental aspect of our quality manufacturing process and safety campaigns."
The trampoline manufacturing industry has been facing major setbacks, especially with ongoing crackdown on substandard trampoline replacement parts. This is mainly due to the number of safety concerns in the industry where injuries and fatalities have increased in the recent past.
For instance:
1. The U.S. Consumer Product Safety Commission has recalled about 668,000 units manufactured by Stamina Product Inc. This is after the company received 13 reports on mini trampoline injuries. The firm had to pay a civil penalty.
2. The TR-14FT-COM trampolines recalled by Sportspower Ltd. due to safety concerns
3. Panline U.S.A. recalled trampolines due the fall hazard that could cause injuries.
4. The Aqua-Leisure recalled children's trampoline due to fall hazard.
5. Sportspower Ltd. recalled 120, Sportspower BouncePro 14-foot trampolines.
The regulatory authorities are keen in the quality assessment and evaluation process. Most of these are as a result of inadequate quality testing at the manufacturing companies. This is due to lack of quality testing and manufacturing equipment. Thus the gap, Domijump intends to bridge by investing in trampoline part replacement production machines.
NOTE: None of Domijump trampoline or parts have been recalled since the company's inception due to quality concerns.
The Domijump trampoline parts
The Domijump trampoline parts are compatible with all trampoline brands that are available in the market. Investing in these new machines come at a time when the company has been receiving overwhelming orders for their European and American markets. Domijump will fabricate and repair the following key parts:
1. The trampoline frame pads; designed for safety purposes. They are tear resistant with reinforced PVC.
2. Trampoline mats; are UV resistant and rain permeable.
3. Safety nets; are tear-proof, UV resistant with fine mesh grid.
4. Trampoline ladders; can fit all trampolines and are available in large and small sizes
5. Trampoline springs; easy to install, super strong and weather resistant
The trampoline part replacement production machines will manufacture/fabricate other parts such as plastic parts, foam sleeves and solar lights. Domijump intends to use this process to increase the replacement parts in the market. 
About Domijump
Domijump is the leading manufacturers and supplier of mini trampolines and various trampoline parts. Since its inception, the company has managed to reach an output of over 5 million USD. It has also partnered with other multinational retail stores such as Walmart, Auchan and Correfour amongst others. Their mini trampolines and products meet the recommended international standards and they are TUV GS and BSCI approved. 
Domijump provides equal business opportunity for all its partners. The company strives to expand its partner network by recruiting both the existing and new business. This is due to the increasing sales and demand for trampolines in the global market.
For more information about Domijump, visit their official website: 
http://www.domijump.com/
Contact: 0086 137 7732 3951
Email: lisa@domijump.com
Share:
---
Categories: Small Business, Exercise and Physical Fitness, Sports
Tags: domijump, trampoline factory, trampoline manufacturer, trampoline parts, trampoline production machine
---
Related Files
Additional Links