Director Aeneas Middleton on the 'Cranium Intel' Trilogy, Using the Gateway Arch as a Portal to Planet X
Aeneas Middleton, the director of the short film series 'Defusion' and the upcoming 'Cranium Intel' trilogy movies explains his new ambition to change way feature films are produced.
Press Release
-
updated: Nov 30, 2015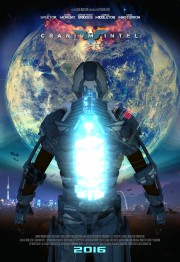 Baltimore, MD, April 28, 2015 (Newswire.com) - ​​​​​​Multi-Platinum Producer/Author/Director, Aeneas Middleton has already worked with some of the biggest music artists from the past decade, including Nelly, Chamillionaire, Chingy, Pretty Ricky and Akon. Now he is into the movie-making business and wants to bring his views to the silver screen beginning with the Cranium Intel trilogy. "This idea has been brewing in my mind since 1984," Middleton says. "It's been a new experience for me to jump into another realm of entertainment," Middleton continues. Film in various locations throughout the United States and across the world to New Zealand, Cranium Intel stars Jayson "Koko" Bridges, Denise Moreno, David Masterson, Adi Spektor, and Aeneas Middleton to lead the pack. "It wouldn't be a St. Louis film without one of the St. Lunatics, Middleton says about casting St. Lunatic member, Kyjuan, to the first installment.
In 2014, Middleton released a few trailers that garnished some major support from the world's biggest vendors including Comcast's XfinityTV, and technology blog writer John Tones from Engadget's Xataka. Cranium Intel is based on Middleton's novel Cranium Intel: Gateway 2020 written by the director.  Anthony Mabin (Iron Man, Star Wars: Episode I, Spider Man 3, The Incredible Hulk) has been attached as Visual Effects Supervisor. Worldwide Cranium Intel sales will be handled by Fantastic Films International, LLC.
"Expect one hell of a mind-bending story," Middleton states. Growing up watching Star Wars, Terminator, more recently the IMAX formats of Christopher Nolan's Dark Knight series, and Avatar by James Cameron has put the director exactly were he wants to be with filming. The first film from the trilogy is slated for May 22, 2016, while the second and third films will follow in 2018, and 2020.
"A lot of fans are watching and waiting for this film. My job is to execute something that is new, not just making a movie. I want to change something visually. I want to create new mega-stars in entertainment. I always wanted to work with Tom Cruise. He gives it all every film. "Cranium Intel is the start of it all, trust Me,"  Middleton adds.
Will Cranium Intel be the next Matrix? or a cult hit like Akira or Ghost in the Shell? I guess we'll have to wait until 2016 to find out.
---
Categories: Celebrities, Movies, Arts and Entertainment
Tags: Aeneas Middleton, Burnin Rubber Music Publishing, Cranium Intel, Cranium Intel Trilogy, Motion Picture, Royal Middleton, STL
---