Dime Bags Storage: Starting Trends and Changing Stereotypes
Can one small business alter decades old misconceptions through a line of bags? The answer is, undoubtedly, yes.
Press Release
-
Jul 29, 2015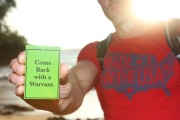 Colorado Springs, Colorado, July 29, 2015 (Newswire.com) - ​What began as two friend's annoyance with the low quality hemp bags available to consumers has turned into a social movement focused on sustainable fashion and crafting a brand eager to defy decades old stereotypes about the cannabis community. Since its conception in the mid-2000's, Dime Bags Storage has evolved into one of the most fashionable and socially aware brands in the cannabis industry.
While being functional, fashionable and environmentally friendly are key components to Dime Bag's business model, as a company they stand for more. Recognizing that there are some really negative stigmas and stereotypes associated with the alternative smoking community, Dime Bags seeks to alter perceptions about a growing faction of the world.
"The reality is we're doctors, we're lawyers, we're pillars of our communities and sadly because of a choice- a hat that we choose to wear, a backpack, something that's close to us that's about our lifestyle- there are some very discriminatory components that come with it" says founder and CEO, Tim Morrissey.
It's these components that led the brand to include a copy of the 4th amendment with each bag, advising it's consumers of their rights as outlined in the US Constitution. Ultimately, for Dime Bags it's about more than just selling bags. It's about making the green movement a positive force and removing barriers that enable the true character and colors of its participants to be shown through lenses unclouded by decades of misconceptions.
---
Categories: Fashion, Fashion and Apparel Industry, Business
Tags: accessories, alternative smoking, apparel, cannabis, fashion, hemp, small business, stereotypes, trends
---