Customer Service DNA - New Book Offers Expert Guidance for Today's Expanding Services Industry
The book was written by Curtis Hill and Erik Alberts, both long time executives at Cisco.
Press Release
-
Apr 19, 2015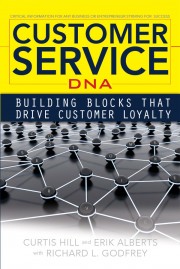 Bountiful, UT, April 19, 2015 (Newswire.com) - Customer Service DNA: Building Blocks that Drive Customer Loyalty is a new book that offers a wealth of expert insights to help businesses create exceptional customer service experiences and ultimately secure customer loyalty.
Customer Service DNA is written by Curtis Hill and Erik Alberts, customer service business leaders who have extensive experience working with customers from across the globe, resolving critical issues, using customer feedback to improve their businesses, and building and strengthening customer relationships. Both Mr. Hill and Mr. Alberts have worked with multinational corporation Cisco Systems for years, Mr. Hill as Vice President of Cisco's Customer Assurance & Corporate Quality organization and Mr. Alberts as a Services executive. Together, they have extended Cisco's customer service offerings, delivered high-profile speeches across the industry and developed their unique philosophy for ensuring exceptional customer service. In Customer Service DNA, the authors reveal knowledge acquired during years of experience, aiming to help companies thrive and expand in an increasingly competitive economy.
The book explores the three building blocks for customer service success: developing the right vision to achieve the changes needed; finding the right people with a passion for serving customers at the highest level; and building the right organization, in terms of both structure and culture.
"Surprisingly, there are few books that focus on services, despite the fact that service-based companies are leading the US economy," said Curtis Hill. "Knowing how to be successful in services is vital to almost every business operating today. At the end of the day, if you want to secure loyalty and build lasting relationships, you need to be providing the best possible experience for your customers."
Mr Alberts said: "With years of experience between Curtis and I, we're both very excited to share our knowledge, and help companies of all sizes grasp what it takes to create a thriving service-based organization. We've both seen businesses achieve great success, and our insights will help those building their companies get a head start."
For more information on Customer Service DNA: Building Blocks that Drive Customer Loyalty, visit http://www.cs-dna.com/ ​
About Customer Service DNA: Building Blocks that Drive Customer Loyalty:
In Customer Service DNA, experienced customer service specialists & business transformation leaders Curtis Hill and Erik Alberts break down the steps to creating celebrated customer service experiences that will ensure companies thrive in today's competitive economy. The book is targeted at established firms, start-ups, and individuals searching for a way to transform their business by exceeding their customers' expectations.
Contact:
(385) 399 2125
---
Categories: Books, Consumerism, Business
Tags: business book, cisco, customer service, service industry
---