Confronting Racism, The Fear of Black History
Seventh Trumpet Media launches the Illustrated Reference Bible reflecting a more accurate depiction of the people in the book. The portrayal of black civilizations in mainstream media will undoubtedly change the way we view history and black people.
Press Release
-
updated: Dec 3, 2014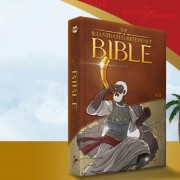 Toronto, Canada, December 2, 2014 (Newswire.com) - The team at Seventh Trumpet Media has been working in the community for numerous years researching and teaching about the great black civilizations in antiquity.  They have created various multi-media presentations and now have created the Illustrated Reference Bible to further this knowledge and positively affect all youth.
Today there are numerous known sources validating that the first people and civilizations were black. DNA proves that black people have greater genetic diversity.  Simply put; all other nations came from black people. Archaeology tells us that the first civilizations of Nubia, Egypt and Mesopotamia were black-skinned people and the bible confirms that the people in these regions are all from the same Hamitic lineage.  Even the genealogy and description of the ancient Israelites in the bible confirm that they were black.  All this knowledge is readily available and yet we still see no representation of this truth in schools and the mainstream media.  Instead we continually see examples like Exodus: Gods and Kings.
Marlon McLean has expressed that, "The repetitive acknowledgement that ancient black civilizations created the first alphabet, mathematics, astronomy, engineering and medicine will change our racial views.  Black youth will gain a greater respect for themselves which would command a greater respect from others."
One of the greatest propaganda campaigns of all time was the masterful marketing of the myth of black inferiority to justify slavery within a democracy.
Seventh Trumpet Media wants to play their role in creating awareness of the rich history of black people.  Get involved! Learn more about how you can help to make the Illustrated Reference Bible a reality.
To learn more please visit, https://www.kickstarter.com/projects/seventhtrumpet/the-illustrated-reference-bible
---
Categories: Books, African American, Education
Tags: #blackhistoryisworldhistory, #SoundTheTrumpet, African american youth, Black Children, Children's Bible
---