Claromentis Launches a Proof of Concept Digital Workplace Service
Claromentis has launched a new service line providing Proof Of Concept services for companies seeking to both clarify the requirements and quantify the value of implementing an integrated digital workplace across 4 areas of the business : Intranet collaboration, BPM workflows, Learning Systems and Project management.
Press Release
-
Jul 30, 2015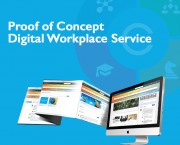 Brighton, United Kingdom, July 30, 2015 (Newswire.com) - Claromentis have today released a new service line for businesses wanting to fundamentally change their Digital Workplace.
​Companies can now come to the professional services team at Claromentis as new clients and experience the full evaluation and implementation service all the way through to completed training with absolutely no commitment to purchase any of the software.
This has moved the risk away from the customer and allows them to make fundamental decisions about their digital workplace with absolute confidence.
As staff demand the same ease of access and intuitive software as they experience in their personal and ever more mobile world the complex issues surrounding the Digital Workplace are high on the CIO's and IT managers agenda. 
​Concerned with the often conflicting demands of integration,  consistent user experience, scope, existing processes and of course access and security the new Proof Of Concept service will allow decisions to be made in this critical area of the business with  complete confidence. 
---
Categories: Business Technology, Business
Tags: BPM, digital workplace, Intranet, LMS, Project management software
---