Buyers Attracted To Custom Rigid Chipboard Boxes
Consumers are bombarded with over 5,000 marketing messages a day. Custom rigid luxury boxes help products get noticed.
Press Release
-
Jan 8, 2015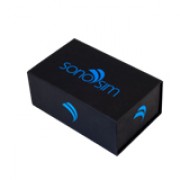 Los Angeles, CA, January 8, 2015 (Newswire.com) - Custom Rigid Chipboard Boxes or Setup Boxes are typically what the consumer is holding when purchasing a product of luxury or high perceived value.   They are used for high-end promotional products, beauty products, custom jewelry packaging, specialty food products, various other products and now the Vape Industry. Companies seeking to attract customers and differentiate their product from competitors are finding the advantages in custom rigid chipboard packaging.  Not only can these custom chipboard boxes be effective in drawing the customer's eyes to the product but the feel and sense of high quality improves the buying statistics.
When choosing from the vast options of custom packaging, setup boxes may not be suitable for limited budgets.  However, the financial investment may be worthwhile if the quality and high perceived value provides a marketing advantage.  
LA Custom Packaging CEO Webb McDowell explains, "Producing these custom chipboard boxes are more labor intensive thus justifying the higher cost. The package corners are manually taped and covered with custom printed wrapped paper to make it strong and visually attractive. These customized chipboard boxes are already fully assembled and ready for fast product fulfillment." Webb further explains that the Vape Industry is using rigid boxes to package their mods, drip tips and e-juice products for promotional packaging.
Companies selecting setup boxes have many concept and design solutions to select from to accommodate their products.  With the strong structural integrity, fast product loading capability, custom fit, and an array of foil stamping and vivid color printing with UV highlighting and velvet covered foam liners, setup boxes are distinctly attractive.  In the packaging industry, rigid chipboard boxes are synonymous with high quality packaging.
For further information contact: LA Custom Packaging at 424-204-6590 or visit www.lacustompackaging.com.
Share:
---
Categories: Small Business, Design and Architecture, Publishing and Printing, Printing
Tags: chipboard box, custom chipboard box, custom packaging, custom packaging design, gift card box, gift card packaging, Los Angeles custom packaging, vape packaging
---